Wales' festive swims: Chills and thrills of Christmas dips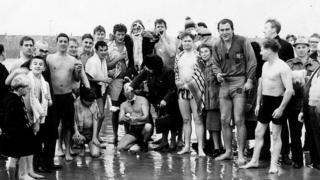 Christmas is traditionally a time for family and overindulging on mince pies, yet there has also been a surge in the popularity of festive swims.
Thousands of people take the plunge at beaches all over Wales, with equal numbers gathering to watch the spectacle of fancy-dressed swimmers charging towards the water.
Here is how some of the swims came about.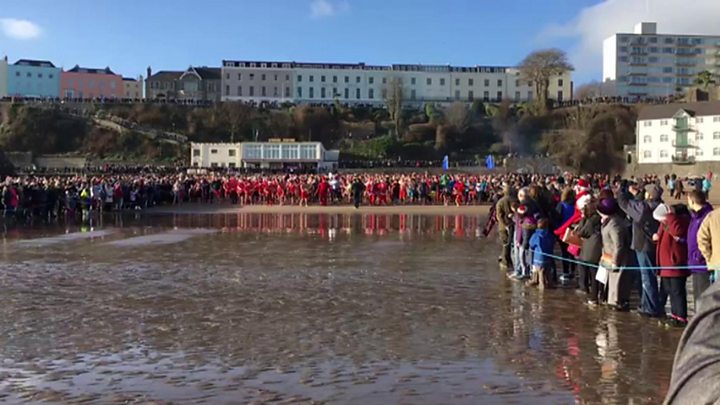 Tenby Boxing Day Swim
Established: 1970
Where: North beach, Tenby, Pembrokeshire
When: 26 December at 11:00 GMT
The swim has been a part of Tenby's Christmas celebrations for almost 50 years, but the origins of its parent organisation, the Tenby Sea Swim Association (TSSA), dates back over 100 years.
Arthur Dickinson, a Quaker, lay preacher and artist brought his family to Tenby from Yorkshire in 1910.
After some children drowned off one of Tenby's beaches, he vowed to give swimming lessons, and the harness he made to support people in the water is in the town's museum.
His son-in-law, Ossie Morgan, carried on the family tradition of teaching children to swim, and when he retired his children formed the TSSA.
The opening of the town's first indoor swimming pool could have spelled the end for the organisation, but it started a new lease of life in 1970 when its publicity officer, John Evans, came up with the idea of a Boxing Day swim.
TSSA chairman Chris Osborne said: "It's quite astonishing the Christmas event I remember my family getting together to organise when I was a youngster, has snowballed into a top seasonal event for the whole of Wales, as well as a substantial charity fundraiser.
"Whatever the weather, there's a very special atmosphere – anticipation, camaraderie, festive cheer and with a lot of old friendships making their annual renewal."
---
Porthcawl Christmas Day Swim
Established: 1965
Where: Coney Beach, Porthcawl, Bridgend county
When: 25 December at 11:45
Arlon Owens, who swam in the sea every day, came up with the idea for the annual swim along with fellow Porthcawl man Jack Bridge, as a way to promote the town.
The original event was more of a spectacle than a swim, with Mr Owens dressed as Coco the Clown, pushing Mr Bridge as Father Christmas off the pier and into the sea.
However, once the numbers started to grow and more people took to the water, the event was moved to Coney Beach.
Mr Owens' grandson and event committee member, Owen Richards, said he has spent every Christmas morning he can remember on the beach.
"I just don't think Christmas would be the same without it," he said.
"In Porthcawl, Christmas isn't only about family and close friends… the entire town comes together.
"For me, that's what Christmas will always be about. This is made even more special by knowing I'm helping to continue something my grandfather started."
---
Pembrey Country Park Walrus Dip
Established: 1984
Where: Cefn Sidan, Pembrey, Carmarthenshire
When: 26 December at 11:00
The Walrus Dip was established by Carmarthenshire council in 1984, and is described as one of the county's "most traditional and colourful events".
Since it started, only two dips have been cancelled – one due to an oil spill and the other when the sea was frozen over.
When he began the event, Carmarthenshire council press officer Ron Cant was told "it would never take off".
"As a Pembrey boy, I always knew that it was tradition of villagers to do daft things on Boxing Day, like organising a mass cricket match on the beach," he said.
"In the early days there was a prize for the person that stayed in the water for the longest, but that was stopped for health and safety reasons."
Mr Cant added: "One of the bikini girls in 1984 had to be rescued from the waves by a policeman in full uniform… and I ended up marrying her!"
---
Barry Island New Year's Day Swim
Established: 1984
Where: Whitmore Bay, Barry Island, Vale of Glamorgan
When: 1 January at 12:00
When a group of friends made an alcohol-fuelled pact on New Year's Eve to go into the sea the following day, little did they know they be would be starting one of the most popular events in Vale of Glamorgan.
Rob Salter was among the five friends who were all lifeguards with the Jackson's Bay Lifesavers, and has taken part in about 20 of the swims over the years.
He admitted the event was not always as successful as it is today.
"It was just the lifeguard club members to start with, but then one year we hit 50 swimmers and then it just kept on growing," he said.
"It's a great community event. All the cafes are open and the swim has a real happy feel about it.
"We've got kids taking part and some elderly people. Some dunk their heads in the water while a lot of people just get their toes wet."
---
Saundersfoot New Year's Day Swim
Established: 1984
Where: Saundersfoot beach, Pembrokeshire
When: 1 January at 12:30
The very first swim was on Boxing Day in 1984, when a handful of hardy locals got together and entered the sea.
It was only ever meant as a one-off to raise funds for the village's new sports club and medical centre.
The following year, event organiser Saundersfoot Festivities, decided to switch the swim to its now well-known New Year's Day slot.
Over the years it has grown in stature. The 2009 swim raised over £46,000, and the 2012 swim attracted a record 1,700 swimmers.
Organiser Steve Williams said the benefits to the village have been huge.
"Every available accommodation within several miles is full to capacity, the pubs, restaurants, hotels and cafes are extremely busy and the streets are thronging with visitors," he said.
"This is a whole village event that includes the very young and some over 80s. No-one is excluded and this ensures a fantastic community spirit."
Mr Williams added: "The whole village has some ownership in the event".
---
Poppit Sands New Year's Day Swim
Established: Around the 1980s
Where: Poppit Sands, Cardigan Bay
When: 1 January at 13:00
Poppit Sands Surf Life Saving Club started the swim around 1980 as a way to raise money and to "make its members more hardy".
It used to follow a Boxing Day game of touch rugby on the beach, but was later moved to New Year's Day to avoid clashes with other local swims.
About 50 people usually enter the water.
---
Whitesands New Year's Day Swim
Established: 2003
Where: Whitesands beach, St Davids, Pembrokeshire
When: 1 January at 12:00
Organised by St Davids Penknife Club, the event is very much like its city home – small but incredibly popular.
Despite being one of the younger swims, it has raised over £26,000 for the Porthmawr Surf Lifesavers and other local charities.
It has grown in popularity with around 140 people taking part in recent years, including local celebrities such as Game of Thrones star, Jerome Flynn.
---
Abersoch New Year's Day Dip
Established: 2008
Where: Abersoch beach, Gwynedd
When: 1 January at 12:00
From modest beginnings, the event has grown to become one of the New Year highlights of Abersoch, attracting about 500 dippers and 2,000 spectators.
Each year, there is a fancy-dress theme, with this year's being musicals.
Event organiser Roy Taylor said: "We are looking forward to the the usual imaginative costumes running into the sea, although some foolish souls just strip to their underwear and run in to clear their New Year hangovers".
---
Barmouth New Year's Day Dip
Established: 2011
Where: Barmouth lifeboat station, Gwynedd
When: 1 January at 11:00
The idea for the swim came from the lifeboat station's coxswain and crew who were trying to come up with new ways of fundraising for the RNLI.
It was first held in 2011 and now attracts up to 50 swimmers who gather outside the boathouse and charge towards the water on the signal of the coxswain.
"There is always a lot of good-humoured fun as holidaymakers and local residents turn out to watch the event and many hangovers are forgotten," said a lifeboat spokesman.
After the swim, a canon is fired in remembrance of past crew members.