Waddingtons board games archive reveals wacky finds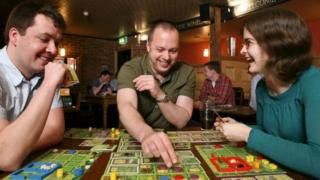 When one of Britain's biggest game makers folded it left behind a huge archive of titles. But for every family favourite, there were quite a few you've probably never heard of.
Monopoly – with its stack of pastel paper money and fights over who gets to play the top hat – is the quintessential board game.
But alongside such classics, collectors at Leeds Museum have unearthed a quirky array of less-well known titles.
They were found during a stocktake of more than 1,000 games and jigsaws from the vaults of Waddingtons – once the UK publisher of Monopoly.
The Leeds firm, which closed in 1994, handed over its entire collection to the museum for safe keeping.
Kitty Ross, the museum's social history curator, said: "We've certainly uncovered a quirky collection of weird and wonderful games which haven't quite stood the test of time."
Among the, ahem, hidden gems is your typical rainy-day mix of hip-thrusting, spooky thrills and bovine reproductive fluids.
Wait. What?
Your moo-ve
Yep, you read that right. The snappily-titled Grade Up to Elite Cow – imagine Monopoly but with cattle – probably has the most uses of the word "semen" ever seen in a board game.
Marketed as a game of "skill and chance for dairy farmers" and created in partnership with the British Freesian Cattle Society, the aim is to invest and trade in bull sperm in order to improve the quality of your herd.
Each player starts with six cows and £1,500 from the bank. Cows can only be upgraded by collecting semen discs as players work their way around the board.
But beware the pitfalls on the way – pick up a market card which states "This cow has persistent Mastitis sell her at the market price" and you won't advance to greener pastures.
The first player to grade up four of their non-pedigree cows to elite status is crowned the winner.
Proceeds from sales of the game were donated to a young farmer's group, although it's not clear if Elite Cow made them a lot of moo-lah.
Ms Ross said: "I'm not sure how many families would have cheerfully sat down for a game about dairy farming.
"I think it's fair to say it had a very limited appeal."
Paranormal activity?
Some 20 years before it unleashed Elite Cow on an unsuspecting public, Waddingtons decided to reinvent the quaint Victorian past-time of communing with the dead as a harmless game of fun for children.
A key ingredient of any good teenage sleepover, Ouija had been popular since the 19th Century, with American toy maker Parker Brothers acquiring rights to the board from businessman William Fuld.
In 1968, Waddingtons brought out their own version to sell in toy shops around the UK.
A company magazine from the time states: "This board contains the words "yes", "no" and "goodbye", and set out in three lines are the letters of the alphabet and the numbers 0-9.
"It is operated by two people, who place their fingers on a heart-shaped stand, which in the centre has a round glass window.
"Together the two people can explore the telepathy and seek advice of those in another world."
Although the game was a big commercial success, the subsequent media hysteria proved its downfall.
"It caught a particular time when superstitions were coming back and people were getting more uptight about the occult," Ms Ross said.
Kitty Ross, the museum's curator of social history, said "It caught a particular time when superstitions were coming back and people were getting more uptight about the occult.
"There was a moral panic that teenagers were sat in their bedrooms calling up the spirit world.
"Waddingtons decided this probably wasn't ideal for a family business so it disappeared from the shelves after a year."
'Go-go rhythm'
While some of the games in the Leeds archive were made by Waddingtons, the firm was often sent products from manufacturers overseas – including modern-day video game giant Nintendo.
Before it turned an Italian plumber in red dungarees into a national icon of Japan, the Kyoto-based firm traded in more analogue delights
Among its 1960s offerings was Hippu Furippu (Hip Flip in English), a version of US firm Parker Brothers' answer to the hula hoop craze and an "extremely healthy game for the whole body", according to its manual.
Two players suspend the Flipper – a plastic contraption with a bell attached – in the air by pressing either end of a metal arm into their stomach.
The gyrating pair begin by slowly moving from left to right in tandem, introducing a pendulum-like motion.
Their aim is to build – and maintain – enough power to keep the Flipper spinning in full revolutions on its axis without it falling to the ground.
"I guess it's about how long you can hip flip before you get the giggles or the strap falls off," Ms Ross said.
To really get the party swinging, the instructions urge players to match their movements to some music (especially if it has a "go-go rhythm") to create "a fun and pleasant atmosphere".
Once you've mastered that, the makers challenge players to get a bit more daring: "As you get better at spinning in the normal way, try attaching the Flipper to your back or sides".
And, true to its family-friendly image, Nintendo made it possible to halve the length of the device so kids could get in on the hip-thrusting fun.
Copy and peace
Seemingly, even toy makers have their spies.
This game ended up in the Waddingtons archive after being sent from Madrid as evidence of potential copyright infringement, Ms Ross said.
La Paz is essentially Monopoly, the firm's most popular game, albeit with a Spanish name which translates to peace in English.
Waddingtons was sent this game from Madrid to investigate potential copyright infringement, Ms Ross said.
La Paz is basically a rip-off of Monopoly, the Leeds firm's most popular game, albeit with a Spanish name which translates to peace in Spanish.
The game was made in 1950 at a time when Spain was under the rule of dictator Francisco Franco and not trading internationally.
Ms Ross explained: "Waddingtons was sent this by someone who spotted it in Spain. Because Spain was not trading with other countries the company did not have the power to prosecute them.
"But it's interesting that they had eyes around the world looking out for this kind of copycat behaviour."
She added: "The fact this game was called peace is ironic because Monopoly is pretty ruthless and renowned for causing many a family argument."
Hold the front page
Keep it simple, stupid. The unofficial mantra of many a hard-nosed paper editor.
But the creators of Scoop – a 1953 game of daily newspapers and their reporters, which features a bewildering array of pieces – perhaps didn't get the message.
Despite this, the game makes a fair fist of recreating the thrill of Fleet Street, where journalists race their rivals to get to the best stories.
Every player is a reporter and each gets a newspaper front page to fill with stories and adverts of as high a value as possible.
Ms Ross said: "Just by the title alone you can tell this is a very British game and was very typical of the 1950s.
"There're some great stories for budding reporters to to pick from to fill their page, such as 'aerobatic thief steals £3,000 from singer's flat'."
The winner is the player who completes the front page and goes to press first.
Surely the most unnerving part of the game would be the dreaded call from the editor to find out if your story is going to be binned or not.