Voting begins in the second round of the presidential elections in Uruguay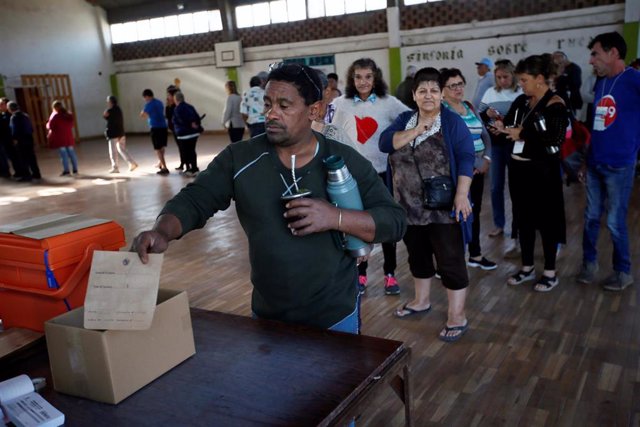 Elections in Uruguay – REUTERS / MARIANA GREIF
MADRID, Nov. 24 (EUROPE PRESS) –
The vote in the second round of the presidential elections in Uruguay has already begun to decide between the left-wing candidate, Daniel Martínez, and a possible change to the right with Luis Lacalle Pou.
Precisely Lacalle Pou has left for his electoral college with a list in his pocket given by a member of the Colorado Party in the interior of the country, an indication of the "multicolored character" of the government that he hopes to lead if he wins the elections.
The outgoing president, Tabaré Vázquez, has already voted that he has received a call from former president "colorado" Julio María Sanguinetti. "Yesterday I had the honor of receiving a phone call from former President Julio María Sanguinetti where he told me clearly that he was a pride for the whole country with the peace and tolerance in which we were living the election campaign. I was very pleasantly surprised. I thanked him for the call," Vázquez has indicated.
He has also explained that he lives these elections with "peace of mind." "We live in democracy and democracy is worth the opinion of the people and if there is alternation too," he argued. Thus, he stressed that he was proposed to run for re-election, but he did not want to because he considers the alternation "positive." Alternating is not a drama. "Drama are other things," he said.
The former president José Mujica has also already voted, who initially declined to make statements: "This cow does not give more milk." At the insistence, Mujica has referred to the recent affirmations of the Military Center, an organization of ex-military of ultra tendency, who called to "remove Marxism" and warns of the "siren songs" of Human Rights. This position has been rejected by different political and social sectors, but not from the "multicolored coalition", led by Lacalle Pou.
"It is not what I liked. It is what they said, also accompanied by things that were done," said Mujica, who has warned of "some nostalgic sparks that should not happen." "I don't say anything. I say there are things that shouldn't have happened," he said, although he didn't want to go deeper because "the Uruguayan people are voting."
The polling stations will remain open until 19.30 hours (23.30 in peninsular Spain) for 2.7 million Uruguayans with the right to vote.