Von der Leyen begins her management as president of the Commission with the COP25 of Madrid and a trip to Africa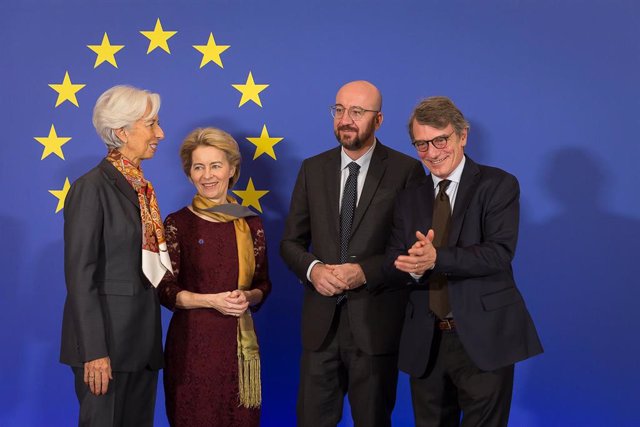 Christine Lagarde, Ursula Von der Leyen, Charles Michel and David Sassoli – James Arthur Gekiere / BELGA / dpa
BRUSSELS, Dec. 1 (Reuters / EP) –
The new president of the European Commission, Ursula von der Leyen, has taken office on Sunday and has already announced her first official acts, which include her participation in the Climate Summit (COP25) that starts on Monday in Madrid and a trip to Africa.
In one of his first statements after his release, Von der Leyen has explained to the press that he will try to make Europe the first neutral continent from the point of view of CO2 emissions by 2050, which means reducing emissions by at least one 25 percent by 2030 and promote compensation measures such as reforestation.
Von der Leyen will be in Madrid presenting the so-called Green Deal (Green Agreement) at the inauguration of COP25 on Monday. In addition, legislative proposals from the Commission are planned for next December 11 that must be approved by the EU leaders and the European Chamber.
Regarding their foreign policy priorities, they seem less defined: "On Friday I will make my first trip outside the EU. It will be to Africa," Von der Leyen explained to the press, a very symbolic gesture to underline the greater involvement of Brussels in the neighboring continent.
In addition to investments, the EU is one of the main donors for the development of African countries. Von der Leyen has promised more investment in the continent to take advantage of its economic potential and address the issue of migration that leaves the Mediterranean dead every week.
Specifically, he will travel to Addis Ababa, capital of Ethiopia, to meet with Prime Minister and Nobel Peace Laureate Abiy Ahmed and with President Sahle-Work Zewde, the only head of state of Africa. He will also meet with Musa Faki, president of the African Union Commission, an organization that is based in the Ethiopian capital.