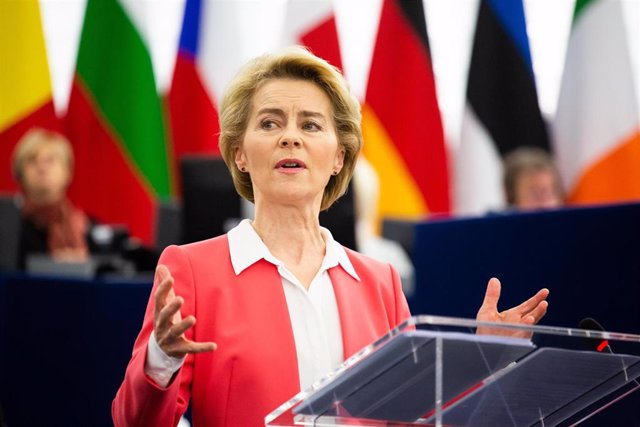 Ursula von der Leyen intervenes before the European Parliament – Philipp von Ditfurth / dpa
BRUSSELS, Nov 27 (EUROPE PRESS) –
The German conservative Ursula von der Leyen has achieved Wednesday the approval of the European Parliament to his team of commissioners, which will allow him to take over from Jean-Claude Juncker at the head of the European Commission this Sunday, December 1; with the commitment to lead a "geopolitical" and peer executive, capable of leading the fight against climate change and the digital transition.
Von der Leyen and his team of commissioners achieve the approval of the Eurocamara
The new Commission has been approved in plenary session (461 votes in favor, 157 against and 89 abstentions) with the majority support of the European People's Party, the Socialists and Democrats and the Liberals of Renew Europe. The Greens announced their abstention, while the Unitary Left positioned itself against.
It will take possession with a month of delay with respect to the calendar foreseen by the veto of the Eurocamara to three commissioners that France, Hungary and Romania had to replace and will do so with the empty chair of the United Kingdom, which has renounced its commissioner despite being obliged to present one while Brexit does not occur.
"In the next five years, our Union will embark on a transformation that will affect every part of our society and economy. And we will do it because it is the right thing, not because it will be easy," the president-elect promised in a speech without surprises before the plenary of the European Parliament before the vote of its College of Commissioners.