Vitaly Mutko: Russia football head steps aside amid doping ban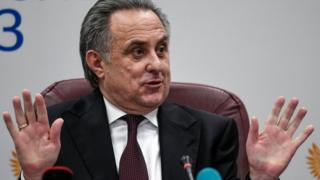 Russia's most senior football official has temporarily stood down as he fights a ban given for state-backed doping.
Vitaly Mutko was banned from the Olympics for life in early December having been accused of running a huge Olympic doping programme.
Mr Mutko said he would stand down as president of the Russian Football Union while he contests the ban.
He has always denied taking part in doping but Russia was banned from competing in the 2018 Winter Olympics.
Mr Mutko will continue to carry out his role as the chief organiser of next summer's football World Cup in Russia.
Whistleblower Vitaly Stepanov, a former Russian anti-doping agency worker, told the International Olympic Committee (IOC) that Mr Mutko, a former sports minister, "created and ran" Russia's "state-directed" doping programme.
Russian doping – how we got here

Who gets Russia's medals in Pyeongchang?
Mr Mutko, he said, "received help from other state officials" including "Vladimir Putin's authorisation of a decree that required urine and blood samples carried by foreign anti-doping inspectors to be approved".
Mr Mutko was also directly implicated in the McLaren report, an independent investigation looking into whether the Russia state backed doping in sport.
Russia has repeatedly denied running a state-sponsored doping programme.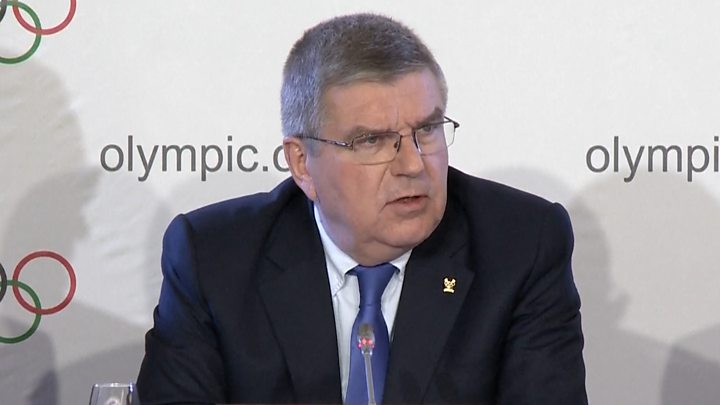 Mr Stepanov's testimony, made public in early December, led to Russia's ban from the 2018 Games in Pyeongchang, South Korea.
Russian athletes who can prove they are clean would be allowed to compete in the Games under a neutral flag.
'Letting clean Russians compete is right'
Mr Mutko, one of Russia's deputy prime ministers, said that he would step down "so that our organisations are not disturbed during the legal investigation". He said he was appealing to the Court of Arbitration for Sport.