Virgin islanders still in shelter, six months after Irma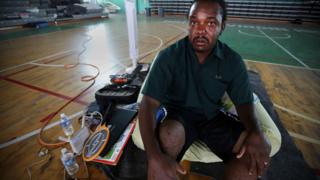 Six months after the worst hurricane in living memory brought devastation to the Caribbean, there are still UK citizens sleeping in a government shelter with nowhere to call home.
In the middle of a basketball gymnasium, Stanton "Mikey" Robinson, 30, sat with all of his worldly possessions.
Fighting back tears he explained his dream of having a small apartment with a small table and a single bed.
"I don't like it in here. I don't feel comfortable in this place," he told us. "(tell the government to) Please help me."
Twenty metres away on what's meant to be spectator seating, Makeba Hesky, 34, sat nursing her 10-month-old child.
A large hole – unpatched since the hurricane – in the roof of the BVI Sports Complex allowed rain and light to pour into the otherwise unlit gymnasium.
"It seems to me like everybody just give up on us," Hesky said.
Hesky and Robinson are among the approximately 20 people still living in the shelter who have faced repeated deadlines to move out despite nowhere to go. Many more are living with friends and family.
Outside the sports complex and across the islands, signs of Irma's (destructive) visit can still be seen everywhere – not least at the island's government building.
Most of the structure's windows are boarded, awaiting replacement. Inside, the island's premier, Orlando Smith, works from a sparse office while repairmen are still labouring to repair the extensive damage.
Asked if he could guarantee that those in the shelter would not be thrown out with nowhere to go, Smith told the BBC, "that's why they're still there… we're looking to provide the necessary accommodation for them".
The "biggest priority is housing – getting those roofs back on, getting people in homes," he said, speaking outside his office. "Then of course, there is the matter of the economy. We've got to get that economy back up and running."
Economically speaking, the islands' tourism sector took the biggest hit.
Few know that better than Roselyn Hill. She like many others here worked in the tourism industry for decades, only to be laid off when Irma damaged the resorts and attractions at which they worked.
"Peak season a couple of years ago – sometimes it looks like more boats than water. You can't see the water for the yachts," she said, standing on a cruise ship dock that (now lies) laid empty.
Two of the biggest cruise companies have stopped bringing ships to the BVI, and the reduced numbers of tourists has meant a slow recovery for the tourism industry.
"It's not a good feeling you know back then to compare it to now," she said. "When we see a cruise ship, it's like light".
The hardships have caused many to question whether the United Kingdom did enough to support those on the islands.
Across town, Rita Plunkett was doing her washing on a day off.
Stepping inside, she explained how windows and doors to her home were broken during the storm and pointed to massive water damage to a bedroom ceiling.
On the roof of her apartment building, bits of UK Aid-branded tarpaulin stood between her and regular rainstorms.
She said the UK's response came up short.
She received, "no aid, apart from the six bottles of water I got – that was it," she said.
It was a common perception we have heard here over the past few days – that other than the work done by British troops in the month after the storm, more could have been done.
Upon returning from a preaching trip to the island of Virgin Gorda, Bishop John Cline went a step further than most we spoke with.
"When we did need them to show that we are truly a child of the United Kingdom, I think they disappointed us," he said. "It changed our view in terms of a relationship, to saying 'are we really a part of you or is that just in name only?'"
But the island's British governor, Gus Jaspert, says he's proud of the UK's contribution to the BVI's recovery – noting that much of Britain's work has been behind the scenes.
"The UK had a very first visible phase, which was military out and about. People saw that a lot more," he said.
"Behind the scenes, the UK has been supporting with infrastructure, supporting with technical advisors in each of the key departments and ministries… as well as grants on specific projects – both on immediate needs, but also on longer term.
"(Together) we've got the electricity back on. We've got businesses back open. We've got all children getting educated, and key services are back up and running," he said, while acknowledging that much work still remained.
The governor is right about progress being made. Given the scale of the destruction even removing debris has been a huge feat, albeit one that is still ongoing.
The island's main high school lies in ruin. Many other schools appear damaged. Harbours are littered with overturned and abandoned boats – some boats lay where they washed up on land. Roads are littered with potholes. And some debris remains strewn about.
And now, with hurricane season less than 100 days away, many island residents are worried about what the next storm may bring.
Photos by Paul Blake