Views sought on sex education content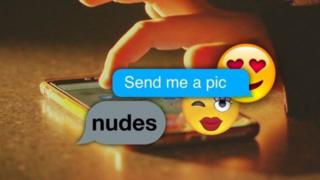 Sexting, online pornography, staying safe online, transgender issues – should these topics be included in new sex and relationships education (SRE) guidelines for schools in England?
The Department for Education is asking parents and young people for their opinions in an eight-week call for views on what should be covered.
The current SRE guidelines have not been updated since the year 2000.
Ministers say this is "unacceptable" and want new guidance for autumn 2019.
The drive to improve and update SRE in schools in England comes as figures collected by BBC Panorama show a rise in the number of sexual assaults by children.
The number of reported sexual offences by under-18s against other under-18s in England and Wales rose by 71% from 4,603 in 2013-14 to 7,866 in 2016-17.
Please take part, urges the government
In March the DfE announced that SRE would be compulsory in all England's schools – meaning in academies as well as council-run schools.
But Education Secretary Justine Greening said the current content advice for schools was out-of-date.
Ms Greening said: "It is unacceptable that relationships and sex education guidance has not been updated for almost 20 years, especially given the online risks – such as sexting and cyber-bullying – our children and young people face.
"Young people must have an education that teaches them the importance of healthy and stable relationships.
"This call for evidence is about giving teachers, parents and especially young people a chance to help shape that new approach and I'd urge them to take part."
What do pressure groups say?
Lisa Hallgarten, policy manager for the sexual health charity Brook, said: "We have a very clear understanding of the unique challenges that young people face and what they need from their relationships and sex education.
"We thoroughly look forward to seeing a guidance that reflects this."
Rachel Krys, co-director of the End Violence Against Women Coalition, said: "We know that children and young people experience sexual harassment and violence, and online they are exposed to images and content which can be very disturbing.
"It is vital that schools give children the information they need about sex, consent and healthy relationships."
Ruth Hunt, chief executive of campaign group Stonewall, said: "The current guidance, published 17 years ago, contains no mention of lesbian, gay, bisexual, and transgender (LGBT) people.
"Schools that teach LGBT-inclusive RSE are in the minority, leaving many LGBT young people without the information they need to make safe, informed decisions.
"Just 13% of LGBT young people have learnt about healthy same-sex relationships."
Thomas Pascoe, campaign director of the Coalition for Marriage, said: "Under these proposals, the leading agent in the early sexualisation of children would be the state itself.
"We should be teaching young children broad values of respect and tolerance, not ordering them to accept adult sexual relationships which they are far too young to understand."
Who's going to lead the consultation?
The eight-week consultation will be led by Ian Bauckham, who was awarded the CBE in 2017 for services to education.
Mr Bauckham is head teacher of a large Church of England comprehensive school in Kent.
He is a national leader of education and works with other schools in the region and further afield.
"I hope that the call for evidence being launched now gives us the chance to find out about the best teaching and to improve provision for all our young people in all types of school," he said.