Venice begins to return to normal after the worst week in its history at high tides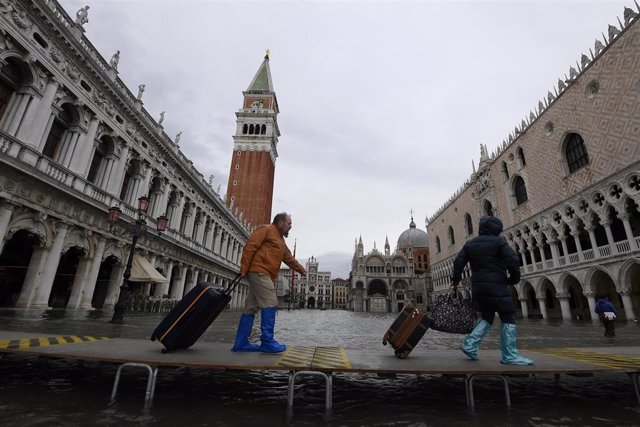 The floods in Venice – REUTERS / ALBERTO LINGRIA
The lowering of the water level allows to assess the damages suffered by the city although most shops are still closed
ROME, Nov. 18 (EUROPE PRESS) –
Venice has begun this Monday to recover normality with the drop in water level after what has been the worst week in its history since 1872 as a result of high tides, especially on November 13, the day on which recorded a height of 187 centimeters of water.
After the drop in water level, on Monday the streets of Venice have appeared full of objects, furniture, books and other equipment and most stores and establishments have kept their doors closed because they are still working to recover the facilities after the last floods
According to the newspaper 'Il Corriere della Sera', most merchants have returned to Venice to clean and reorganize their establishments. On the day of Sunday, the defenses of the Basilica of San Marcos have endured in front of the floods, without the crypt being flooded.
So far, the Venice City Council has done a damage assessment of more than 1,000 million euros in the city. Almost all churches have suffered serious damage as a result of the floods resulting from high tides last week.
However, this complicated situation has given way to solidarity with Venice, with more than one million euros in donations delivered to the Italian Embassy in Moscow for the restoration of the artistic and architectural heritage of the Italian city.
Awaiting the arrival of the funds, Venice has received on Monday 280 volunteers from Civil Protection groups and associations from different parts of Italy to participate in the reconstruction of damaged buildings.
The forecasts of the Tidal Center indicate that this Monday the water level will reach 105 centimeters at 13.20 hours, after that at dawn, at 2.45 hours, the level will remain at 78 centimeters. These levels are very far from the maximum of 187 centimeters marked on November 13 and the 150 centimeters of November 17. The forecast is that in the next few days the level will be around 100 centimeters.