Valerie Graves: Murder in Bosham still unsolved four years on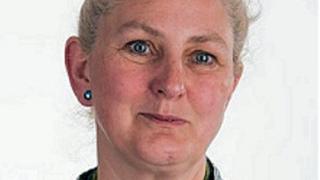 The family of a grandmother who was bludgeoned to death say they want answers, not revenge.
Valerie Graves was found murdered while she was house sitting for friends in Bosham exactly four years ago.
Sussex Police has renewed an appeal for information to mark the anniversary.
The 55-year-old artist's ex-partner Roy Wood, father to her children Tim Wood and Jemima Harrison, said: "We are just waiting and hoping that one day we will know what happened."
The 69-year-old, of Portslade, East Sussex, added: "None of us feel a thirst for revenge. We would want the killer to be caught so they cannot do it again to someone else.
"We all live in this era of watching something on television where it gets solved in six episodes. We have that expectation. It doesn't happen like that in real life."
There were no signs of a struggle but a post-mortem examination found she had severe head injuries after being hit with a claw hammer, which was found 600 metres from the house in Hoe Lane.
A partial DNA profile indicated the wielder was a man.
Nearly 3,000 men who lived, worked or visited the village provided a DNA sample and thumbprint to eliminate themselves from the inquiry, in one of the biggest investigations in Sussex Police's history,
A match for the killer's DNA has not been found and the murder remains unsolved.
An inquest in 2015 ruled her death was an unlawful killing and police are offering a £10,000 reward for information leading to an arrest and conviction.
Det Supt Jason Taylor said: "The investigation team remain determined to find Valerie's killer and get justice for her and her family, and we continue to do everything reasonably possible to achieve this."