US tariffs: Allies retaliate with levies on jam, lamps and sleeping bags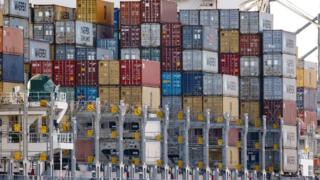 The US has slapped tariffs on steel and aluminium imports from its allies the EU, Canada and Mexico – but don't think they'll take it without a fight.
All three have already announced retaliatory measures as the US follows its new policy, which has been attacked as "protectionism, pure and simple" by the EU.
Ranging from serious to strange, these counter-tariffs could play a part in a growing trade battle.
Read on to see which American products each US ally plans to target.
What is a trade war and why should I worry?

Trade tariffs: Real war or phoney war
Canada
Prime Minister Justin Trudeau objected strongly to the announced tariffs, calling them an "affront" to their nations' military alliance.
He said Canada buys half of US steel exports.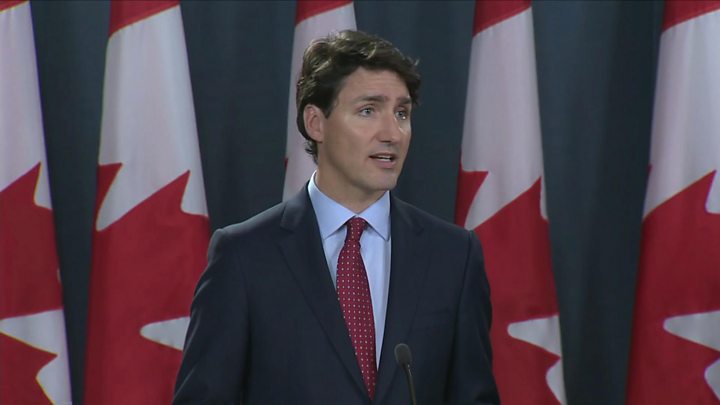 In retaliation, Canada plans "trade-restrictive countermeasures" on C$16.6bn ($12.8bn) of US goods, to come into effect on 1 July.
The country will impose a 25% tariff on assorted US steel products, including railway tracks, piping and steel sheets.
But Canada also plans a 10% tariff on more varied items:
Yoghurt, soya sauce, strawberry jam, "mixed condiments", pizza and quiche
Orange juice, whiskies, coffee, soups and waters
Manicure and pedicure products, hair lacquers, shaving foam, toilet paper and dishwasher detergents
Playing cards, felt-tipped pens, inflatable boats, lawnmowers and sleeping bags
The list, published by the Department of Finance, also includes a 10% tariff on candles – although, relax Canadians, "not including those for birthdays, Christmas or other festive occasions".
No explanation is given for why these products were chosen.
The EU
European Commission president Jean-Claude Juncker said he plans to take the US to the World Trade Organization over the American tariffs, a policy he called "totally unacceptable".
In the meantime, the bloc released a list of tariffs in March – 10 pages of US goods they plan to target:
Bourbon whiskey, orange juice and cranberries
Jeans, T-shirts and tobacco
Corn and other agricultural products
Steel and industrial products
Cosmetics, consumer goods, motorbikes and pleasure boats
The aim is to have the maximum political effect. Kentucky, home to bourbon whiskey, is Senate majority leader Mitch McConnell's state.
Orange juice, meanwhile, is a major export of Florida – a key US swing state.
France's junior trade minister Jean-Baptiste Lemoyne said he expects EU counter-measures to be completed by mid-June.
Mexico
America's southern neighbour also swiftly released a list of products on which it would impose tariffs, "up to an amount comparable to the level of damage" of US tariffs. The economy ministry said levies would be placed on the following:
Flat steel, hot and cold foil products, and piping
Cold cuts, pork chops and sausages
Berries, grapes, apples and "various cheeses"
Lamps
Economy minister Ildefonso Guajardo said on Mexican radio that "this kind of thing does not benefit anybody".
Mr Guajardo said Mexico is the top buyer of US aluminium and the second-biggest buyer of US steel.
US tariffs could hit $4bn worth of trade between the two countries.