US kills 25 members of an Iraqi paramilitary militia in five bombings in Syria and Iraq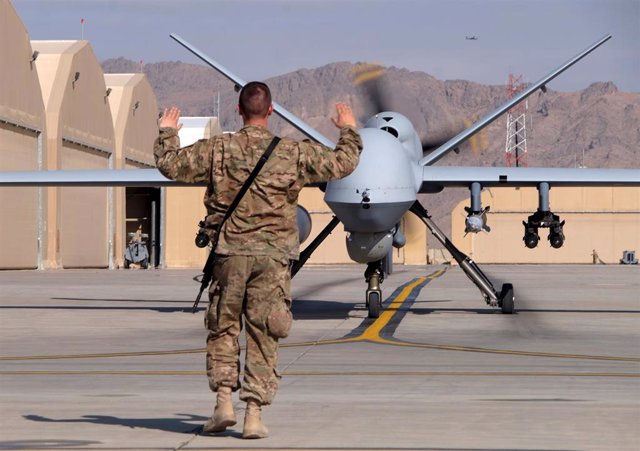 Drone MQ-9 American Reaper in Afghanistan – REUTERS – Archive
WASHINGTON, Dec. 29 (Reuters / EP) –
The United States has carried out a series of "defensive attacks" in Iraq and Syria against the Kataib Hezbollah militia, an armed group related to Iran, according to the Pentagon. At least 25 people have died and at least 55 have been injured in these attacks, according to Iraqi security sources.
Among those killed are at least four commanders of the group. Kataib Hezbollah is part of the Popular Mobilization Forces (FMP), a coalition composed mainly of Shia militias allied with the Iraqi Army.
Specifically, three targets have been bombed in Iraq and two in Syria where there were weapons stores and command centers of the group used by Kataib Hezbollah to plan and carry out attacks against coalition forces, Washington said.
An American source has explained in declarations on condition of anonymity that the bombings have been carried out using F-15 combat fighters.
The United States accuses the group of Friday's attack with more than 30 rockets against an Iraqi military base near Kirkuk that killed an American civilian contractor and wounded four US military officers and two Iraqis.
"In response to Kataib Hezbollah's repeated attacks against Iraqi bases that house coalition forces of Operation Inherent Resolution, US forces have carried out defensive precision attacks … which will reduce KH's ability to perpetrate new attacks against coalition forces, "explained Pentagon chief spokesman Jonathan Hoffman.
Several militiamen have been killed in a bombardment against the group's central military headquarters, near the town of Qaim, in the east of the country bordering Syria, according to military sources and armed groups present in the area cited by Reuters. The attack would have been carried out by drones.
Several ambulances are heading to the scene and several bodies, including that of a militia commander, have been taken to the Qaim field hospital, according to an Iraqi Army officer.
US Secretary of State Mike Pompeo has recently held pro-Iranian forces responsible for a series of attacks on bases in Iraq and warned Tehran that attacking the United States or its allies would have a "determined response from the United States."
The FMPs have been a key partner in the fight against the jihadist group Islamic State – during which they were accused of human rights violations – and supported the Iraqi Government until in the midst of the current wave of protests their leaders supported the petition for resignation against the current authorities.