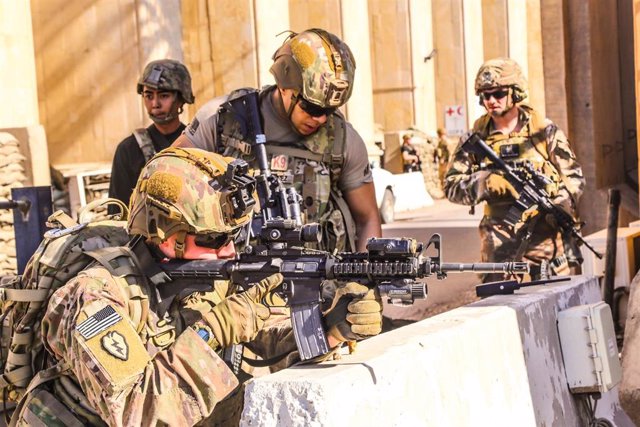 US soldiers in front of the US Embassy in Baghdad – Combined Joint Task Force – Oper
MADRID, Jan. 1 (EUROPE PRESS) –
At least six people have been severely affected by the tear gas launched by security forces of the US Embassy in Baghdad against protesters concentrated at headquarters to protest the recent bombings against a paramilitary militia.
US forces launch tear gas against protesters at the US Embassy in Baghdad
"Protesters have burned tires in front of the US embassy in Baghdad and American forces responded by launching gas boats from inside the embassy," a source from Iraqi security forces said in statements to Iraqi television Al Sumaria. "As a consequence, six protesters have suffered drowning," the spokeswoman said.
A popular event was held on Tuesday in the center of the Iraqi capital in memory of those killed in US bombings against Kataib Hezbollah, an armed organization integrated into the Popular Mobilization Forces (FMP) coalition, serving the Iraqi Government in the fight against the Islamic State.
During the funeral the assistants went to the Green Zone, the part of the city where the headquarters of the Government and the main foreign embassies, including the American one, are located.
On Wednesday, the US Secretary of Defense, Mark Esper, announced the immediate deployment of 750 soldiers in response to protests against the US Embassy in Baghdad.