US confirms 40 infected by the new coronavirus from the 'Diamond Princess' cruise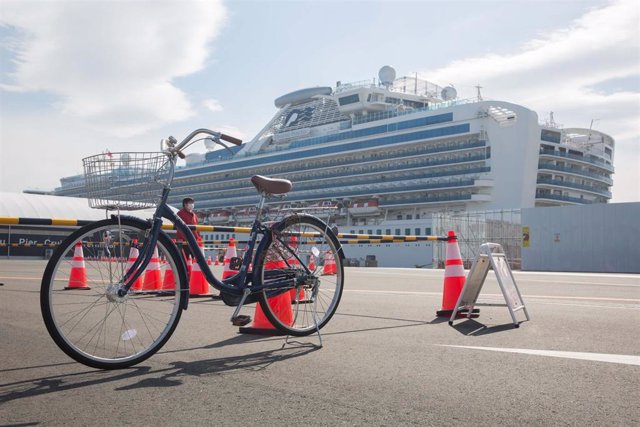 The cruise ship 'Diamond Princess, quarantined on the shores of Yokohama. – Stanislav Kogiku / SOPA Images via / DPA
MADRID, Feb. 17 (EUROPE PRESS) –
The US health authorities have reported on Sunday that at least 40 of the 400 Americans who were aboard the 'Diamond Princess' cruise ship, docked on the Japanese shores of Yokohama passing quarantine, have contracted the new coronavirus, whose latest balance, According to the Chinese Government, there have been 1,770 deaths.
Initially, US citizens were going to be evacuated to a special area established by the United States to spend a second quarantine of 14 days, after the first one aboard the vessel was almost completed in the absence of only two days.
However, US National Institutes of Health (NIH) official Anthony Fauci has told the CBS television network that these 40 infected people "will not go anywhere" and will remain in Japanese hospitals.
"People who have symptoms will not be able to get on the evacuation plane," said Fauci, who added that in case people who access the plane begin to develop symptoms, "they will be segregated inside."
Faced with the anger of some of them for having to face another forty of 14 days, the United States authorities have announced through a letter to the Embassy of the country in Japan that all those of its citizens who do not choose to take that plane, they will not be able to return before next month.
Thus, those who decide to follow the plan of the US authorities will be analyzed before boarding and subsequently transferred to the base of the Travis Air Force, California; or to Lackland, Texas.
For its part, the Government of Canada announced on Saturday that it will evacuate its nationals from the 'Diamond Princess', in which 355 cases of coronavirus were confirmed, the main focus of the epidemic outside China. Like US citizens, another 14-day quarantine will also have to pass once they arrive in Canadian territory.
The cruise began its quarantine on February 5 and in principle should end on the 19th, but the certainty of the deadline has become more diffuse, as new cases of coronavirus on board have expanded, after the first infection of A passenger who landed in Hong Kong.
To this Monday, the Ministry of Health has confirmed 1,770 dead and 70,548 infected, according to the balance of the outbreak of the new coronavirus originated in the city of Wuhan.