US boy trapped in Florida stuffed toy arcade machine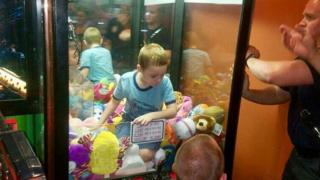 A young boy became stuck in a machine in an amusement arcade while attempting to win a toy in Titusville, Florida.
Mason crawled through the machine's small door, where a prize would normally fall, to get hold of the stuffed toy.
An off-duty fire officer was eating in a nearby restaurant when he noticed Mason was trapped.
The boy sat calmly in the machine as it was pried open, the local fire department said.
Mason ended up getting the toys that he wanted, as well as a few others, before returning to eat dinner with his family.
The fire department said the event was "unexpected", but that the opportunity to "help people in their time of need [is] what draws people to public safety".