University students march in Caracas to ask the Army to "put itself on the side" of the Constitution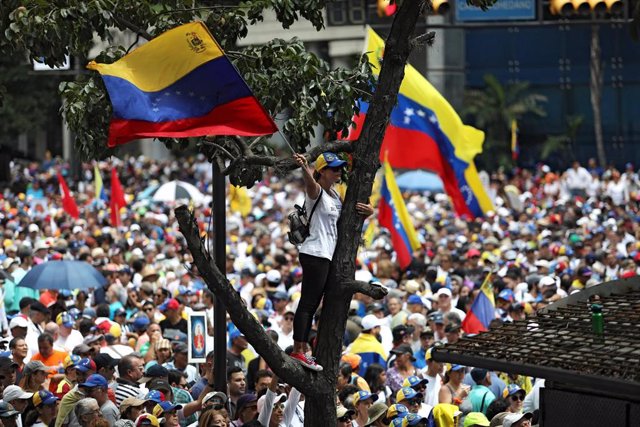 Protesters against Maduro in Caracas – REUTERS / STRINGER. – Archive
CARACAS, Nov. 21 (Reuters / EP) –
Opposing university students have carried out a march this Thursday towards the Ministry of Defense to ask the Armed Forces to "side with" the Constitution and facilitate a transition in the country.
The opposition, led by the president of the National Assembly Juan Guaidó, has called for maintaining "sustained" demonstrations since Saturday to pressure the departure of the government of President Nicolás Maduro, who has the backing of the high military command.
The student community of the Central University of Venezuela (UCV), the main public institution in the country, called from the weekend to leave Thursday from its headquarters in southern Caracas to Fuerte Tiuna, the vast military complex that houses the Ministry of Defense, on a route of about five kilometers.
"This government has robbed us of everything … it has stolen our opportunities and we have to leave the country where they don't want us," said Gabrielle Valdez, a 21-year-old psychology student from the main square of the UCV.
The march began around noon, with hundreds of students walking towards the military installation. In the surroundings of the university and in the near roads they were uniformed, military vehicles and riot contingents of the National Guard, but according to 'El Nacional' they have managed to advance without problems up to a few meters from Fort Tiuna.
The student movement is mobilized to "tell all the Armed Forces, the various components, to stand on the side of the Constitution and tell all Venezuelans that we are still on the street, to accompany us with great force," he said in a message on Twitter David Sosa, head of the student federation of the UCV.
According to the newspaper 'El Nacional', a commission composed of representatives of the Central University of Venezuela, Santa María University, Monteávila University, Andrés Bello Catholic University and Simón Bolívar University have delivered a message with their requests to military and police officials in a picket located in Los Ilustres Park, in Caracas.
The Maduro Government also prepares a march of young supporters of the ruling party from an area near the UCV in support of the officers. According to the first vice president of the United Socialist Party of Venezuela (PSUV), Diosdado Cabello, the Bolivarian students will march "for peace and in defense of the achievements made in the Revolution."
The protests in Venezuela have lost momentum in the second semester and Guaidó, who in January declared himself president in charge and has been recognized by dozens of countries, tries to reactivate them in the face of the latest events in Bolivia, where President Evo Morales presented his resignation under pressure from the Army and after several days of protests following his victory in the elections of October 20.