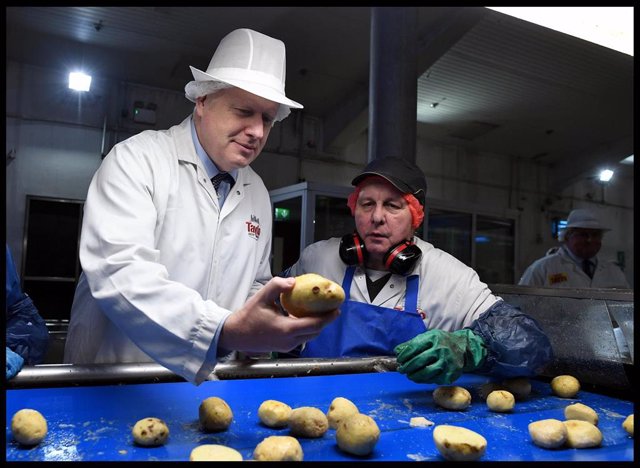 Boris Johnson visits a factory in Northern Ireland – Andrew Parsons – Archive
LONDON, Feb. 19 (EUROPE PRESS) –
The Government of the United Kingdom has revealed on Wednesday the details of its immigration system by points, under which the granting of work visas will be conditioned to poorly qualified foreigners or who do not speak English, a measure that will not affect the citizens of the European Union that are already in British territory and have requested to maintain their rights.
The Conservative Party had already included this new system by points in its program prior to the December legislative elections. Not surprisingly, the reduction of the migratory flow has been one of the recurring arguments among those who have defended the EU's exit in recent years.
The new plan includes that, in order to obtain a work visa in the United Kingdom, at least 70 points will be necessary, of which 40 may be obtained by submitting a job offer that corresponds to the category of qualified jobs – not necessarily university.
Doctoral studies will add points, as well as speak English or aspire to a certain level of salary. The salary bar will be placed at 25,600 pounds (30,800 euros) annually, although it will be reduced to 20,480 pounds in the case of sectors in need of labor, such as nursing or civil engineering.
The measure also raises exceptions for temporary workers, for example in the harvest season, and for young people. Thus, it will allow the arrival in the United Kingdom of about 20,000 young people every year.
Interior Minister Priti Patel has defended in an interview with the BBC that the Government wants to attract "people with the right talent" while "reducing the levels of people arriving in the United Kingdom with low qualifications," although the plan He has met with the reluctance of some of the unions that could be affected and the political opposition.
Labor spokeswoman for employment issues, Diane Abbot, has lamented that the Government "does not seem to have thought about the effects that this policy will have on the economy as a whole and on the message it sends to migrants who already live and work" in United Kingdom.
For its part, the main minister of Scotland, Nicola Sturgeon, has considered that the new system will be "devastating" for the Scottish economy. Sturgeon has in fact included the defense of immigration among the slogans used to claim a new independence referendum.