UNAMI estimates about one hundred people killed by the recent wave of protests in Iraq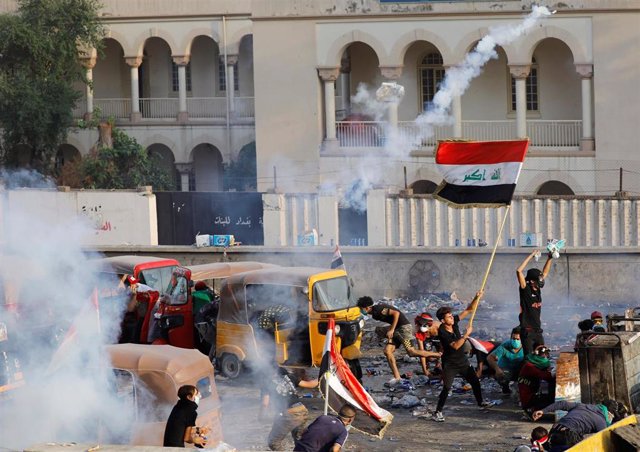 Riots during social protests in Baghdad – REUTERS / THAIER AL-SUDANI
Denounces "serious human rights violations" and criticizes the Internet outage
MADRID, Nov. 5 (EUROPE PRESS) –
The recent wave of demonstrations in Iraq, which were reactivated on October 25, has so far left nearly one hundred dead and several thousand injured, according to a report published Tuesday by the United Nations Assistance Mission for Iraq (UNAMI).
In it, the mission has indicated that its investigations around the protests between October 25 and November 4 have fixed 97 deaths and added that during the same "serious violations and human rights abuses were committed ".
The report details that at least 16 protesters died from the impact of tear gas canisters. "There is no justification for security forces firing directly at demonstrators tear gas canisters or sound and light devices," criticized Danielle Bell, head of the UNAMI Human Rights office.
Thus, he stressed that, "although the Iraqi security forces showed more restraint than in the protests in early October – which occurred between the 1st and 9th of that month and resulted in about 150 civilians killed– , particularly in Baghdad, the illegal use of lethal and less lethal weapons by security forces and armed elements requires urgent attention. "
"This report also highlights areas where immediate action is necessary to stop the vicious circle of violence, and once again underlines the imperative of accountability," said UNAMI chief Jeanine Hennis-Plasschaert.
On the other hand, the document also includes concerns about "continued efforts" to suppress media coverage, as well as blocking social networks in the country.
"We must recognize that in today's digital age, daily life moves 'online'. A total closure of the Internet and social networks not only alters the way in which people make their lives and their affairs: it violates freedom of expression ", Hennis-Plasschaert has settled.
The protests have left more than 250 people dead since their beginning in early October to protest against the economic crisis, unemployment and corruption. Most protesters were hit by shots in the chest and head.