Unai Emery: Arsenal message appears on manager's official website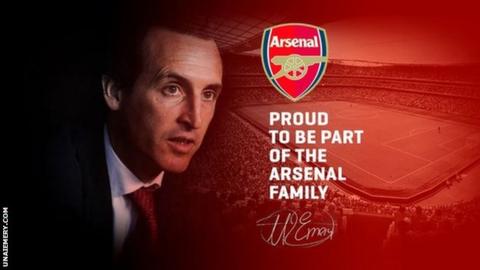 The official website of Unai Emery has carried an image bearing the slogan: "Proud to be part of the Arsenal family."
The former Paris St-Germain manager is set to be unveiled as Arsene Wenger's successor this week.
The London club has yet to confirm Emery as the new head coach.
But on Tuesday an image of Emery alongside an Arsenal crest and carrying the slogan appeared on his official website – before being removed.
It is not yet known if the image appeared in error or was the work of hackers.
The website www.unai-emery.com – which is linked to the 46-year-old Spaniard's official Twitter account – was later showing an error message to those visiting it.
Emery left French side PSG this month after a two-year spell in which he won a league title and four domestic cup competitions.
Previously he guided Sevilla to three consecutive Europa League triumphs between 2014 and 2016.
Wenger left Arsenal this month following a 22-year reign.