UN experts denounce excesses of Chilean security forces during protests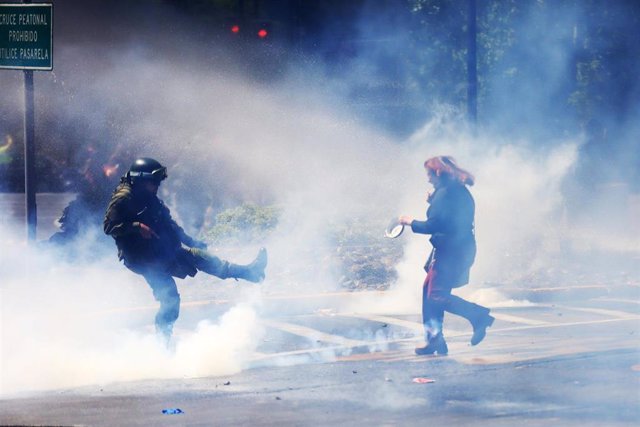 Protests in Chile – Jose Francisco Zuñiga / Agencia U / DPA
MADRID, Nov. 8 (EUROPE PRESS) –
A group of United Nations experts have condemned the excessive use of force by security forces in Chile during the recent wave of protests and are confident that the investigation of the UN High Commissioner for Human Rights will contribute to the surrender of counts.
The rapporteurs, who have recorded at least 20 dead and some 1,600 injured the balance of victims of these protests, have warned in a joint statement that "violence can never be the answer to the social and political demands of people."
"The high number of injuries and the way in which non-lethal weapons have been used seems to indicate that the use of force was excessive and violated the requirements of necessity and proportionality," criticized these experts, appointed by the Rights Council UN humans and who think independently of the organization.
In addition, they have expressed concern about the alleged abuses perpetrated on children or cases of possible ill-treatment and beatings that could even constitute torture. "There have also been reports of sexual violence against women, men and adolescents, including practices such as forced nudity, touching and rape during detention," they added.
Experts have rejected acts of violence committed by individuals and recalled the obligation of the Government of Sebastián Piñera to protect the population from these actions, as well as to "respect Human Rights." In this regard, they have pointed out that the Executive "must allow protests to be carried out by isolating those who resort to violence, while ensuring that all people in the country can enjoy their rights."
The note is signed by the rapporteur on the right to freedom of peaceful assembly and association, Clément Nyaletsossi Voule; the head of the Working Group on arbitrary detention, José Antonio Guevara Bermúdez; the rapporteur on extrajudicial executions, Agnes Callamard; the expert on the promotion and protection of the right to freedom of opinion and expression, David Kaye; the rapporteur on the situation of human rights defenders, Michel Forst; and the chair of the Working Group on discrimination against women and girls, Meskerem Geset Techane.