Ukraine does not rule out that the plane was shot down by a missile and calls for international cooperation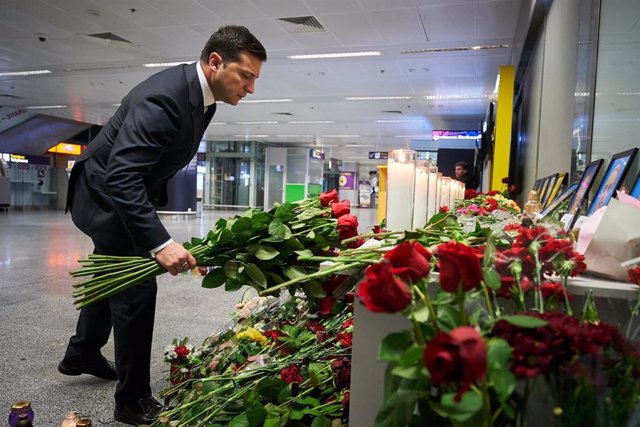 Volodimir Zelenski honors the victims of the crashed plane in Iran – PRESIDENCY OF UKRAINE
MADRID, 10 Jan. –
The president of Ukraine, Volodimir Zelenski, has acknowledged that "it is not ruled out" that the plane that crashed on January 8 near Tehran with 176 people on board was shot down by a missile, although he has appealed to international cooperation to conduct a "objective investigation" about what happened.
The director of the Civil Aviation Agency of Iran, Alí ​​Abedzadé, said on Friday that it is "scientifically impossible" for the Boeing 737 aircraft of Ukraine International Airlines to be shot down by a missile, even if accidentally, as the United States has pointed out , Canada and United Kingdom.
"Following recent statements by leaders, we ask our international partners, especially from the United States, Canada and the United Kingdom, to provide data and evidence related to the disaster to the commission investigating the causes," Zelenski said Friday, according to a statement From his office.
Zelenski, who plans to discuss this event with US Secretary of State Mike Pompeo, aspires to put "the undeniable truth" on the table, political considerations aside. "The value of human life is greater than any political motive," added the Ukrainian president.
The incident has coincided with the recent escalation of tensions in the Middle East, after the United States and Iran have crossed attacks in the last week.