UK wife-carrying contest takes place in Dorking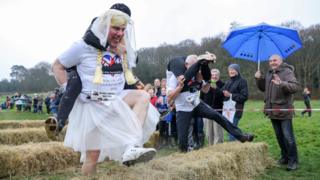 Couples from across the country braved swamps and bogs on a treacherous course in the 11th UK Wife Carrying Race.
Chris Hepworth, carrying Tanisha Prince, raced to victory in the contest over a 1250ft (380m) obstacle course in Surrey.
Organisers suggested the activity of wife-carrying began in June 793 AD.
They said Vikings carried "wenches" in a practice that lasted for 300 years and was reborn after 900 years – and some people took it "very seriously".
Competitors faced a 49ft (15m) ascent and descent on the course, described as "very tough" by organisers.
Information for competitors said: "You do not have to be married (to each other, anyway) but it certainly helps if you are at least friends."
Under the rules, all "wives" – who can be male or female over the age of 18 – had to weigh at least 50kg and there were penalties for dropping the "wife".
Any underweight candidates had a rucksack of tinned baked beans to add to the load.
Organisers warned of the serious injuries participants risked, saying: "Wife carrying can be a dangerous activity, which can lead to any one or more of the following injuries: slipped disk, broken legs and arms, spinal damage, facial injury, skull fracture, hernias, and other sundry injuries and illnesses, and potentially including death.
"But please don't let this put you off!"
The winner received a barrel of local ale while last place was awarded the "ceremonial" Pot Noodle and dog food.
Recognised holds included the bridal carry, the piggy back, the shoulder-ride, the fireman's carry and what was dubbed the Estonian hold – where the wife hangs upside down on the husband's back with legs crossed in front of the face.
The Dorking hold was described as the reverse of the Estonian hold.