UK weather: May 2018 hottest since records began in UK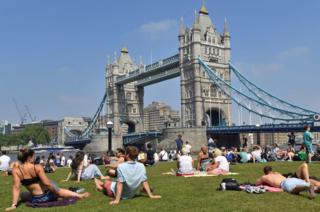 Last month was the warmest May since records began more than 100 years ago, the Met Office has said.
According to provisional figures, May 2018 saw an average daily maximum temperature of 17C (63F).
It would beat the previous May record of 16.9C set in 1992.
The Met Office said spring 2018, which ran from March to May, had been "very dynamic with many fluctuations". But the period was 0.3C higher than the average between 1981 and 2010.
Across the UK, the average May temperature was 1.5C above the long-term 1981-2010 average at 11.9C.
With 245.3 hours of sunshine, it is also likely to be confirmed as be the sunniest May since 1989, which saw 241.7 hours of sun.
Records for temperature began in 1910 and sunshine in 1929.
Less than two-thirds of the average amount of rain for the month fell in May 2018.
But with wetter than average spells during March and April, the rainfall for the UK for spring (March to May) as a whole has been near average.
The early May Bank Holiday was the hottest since the holiday was introduced in 1978.
Tim Legg, of the Met Office National Climate Information Centre, said: "Increased sunshine during (May) has helped to keep daytime temperatures high.
"People's impressions of spring may well be coloured by their personal weather memories, from coping with freezing conditions to enjoying a hot spell in April.
"Actually, it may well challenge perceptions to realise that the provisional average temperature for this spring is 8C, meaning it has been largely warmer than average across the UK by about 0.3C, when compared with the average between 1981­ and 2010."
March saw several winter storms including the tail ends of the Beast from the East and Storm Emma.
April saw the hottest April day since 1949 when, on 19 April, the temperature reached 29.1C in London St James' Park.
The meteorological summer began on 1 June.