UK unemployment falls to 1.44 million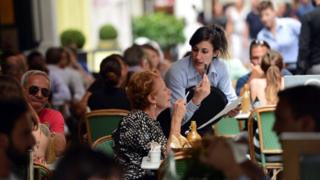 UK unemployment fell by 3,000 to 1.44 million in the three months to November, official figures show.
The number of those in work increased sharply and wages rose at their fastest rate in almost a year, the Office for National Statistics said.
That leaves the UK's unemployment rate at a four-decade low of 4.3%.
But the growth in wages at 2.4% remained below inflation at 3.1% in November, leaving real wages lower for than a year earlier.
"Demand for workers clearly remained strong," said ONS statistician David Freeman.
"Nevertheless, inflation remains higher than pay growth and so the real value of earnings continues to decline."
The pace of job creation was faster than economists had predicted. The ONS said the number of people in work rose by 102,000 in the three months to November, taking total employment to a record 32.2 million.
Higher consumer price inflation, due to weaker sterling, has left real pay 0.5% lower than a year earlier, but rising wages are beginning to close the gap.
John Hawksworth, chief economist at PwC, said the data showed "the UK jobs engine kicking back into life".
He said a tighter labour market, with higher demand for the available workers, would make the Bank of England more likely to raise interest rates.
"If this pattern of solid jobs growth and a gradual pick-up in earnings growth were to persist through the year, then this could push the MPC towards a further interest rate rise later in 2018."
Ian Stewart, chief economist at Deloitte, said he expected wage growth to edge higher this year: "The worst of the squeeze on incomes is probably behind us."
However, Ben Brettell, senior economist at stockbrokers Hargreaves Lansdown, said new technology and global competition were still weakening workers' bargaining power: "It looks like low wages now explain low unemployment, rather than low unemployment acting as a catalyst for better pay."
The pound rose sharply following the news of the strong jobs figures, moving above $1.41 before falling back slightly.
It also hit a six-week high against the euro. Mid-morning, the pound was worth €0.8756.