UK Special Forces soldier killed in Syria bomb blast
The soldier is understood to be a member of the Special Forces.
A MOD spokesperson said: "It is with regret that we must confirm that a member of the UK Armed Forces was killed by an improvised explosive device in Syria yesterday.
"The individual was embedded with US forces on a counter-Daesh operation when the incident occurred.
"The family has been notified and our thoughts are with them at this difficult time.
"We cannot confirm any further details at this stage."
The roadside bomb in northern Syria killed two coalition personnel, including an American, and wounded five others.
The US military did not confirm the location of the blast, but it came soon after one was reported in Manbij by a Syrian official.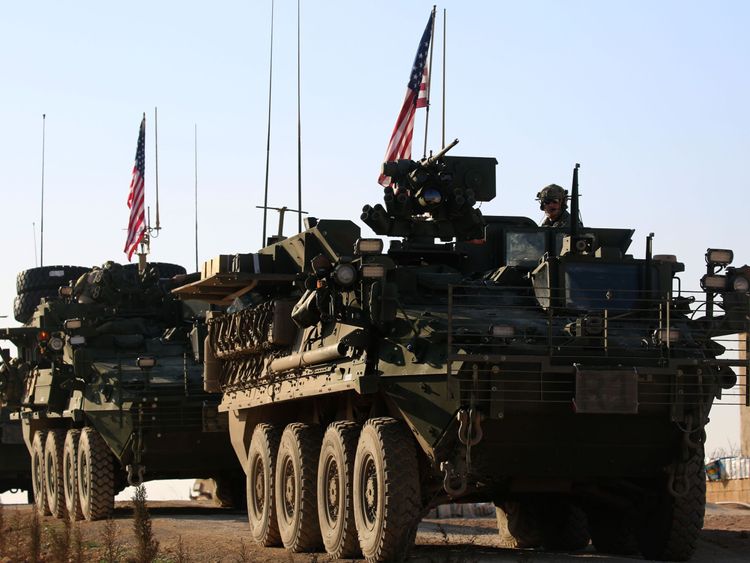 Manbij, an Arab-Kurdish mixed town close to the border with Turkey is at risk of Turkish military operation.
A US Department of Defence spokesman confirmed the American death.
The American was the fourth member of their military to have died in Syria since the US started attacking IS militants in September 2014.
US military spokesman Colonel Ryan Dillon said: "There is an investigation under way to identify who they could possibly be. We have our initial assessment and thoughts on that but we won't provide until the investigation is complete."
More from World



Pressure on DR Congo leader amid humanitarian crisis




IS 'Beatles' pair hit out at losing UK citizenship




Sixteen dead and 1,400 hurt in clashes during protest march in Gaza




Pippa Middleton's father-in-law David Matthews 'investigated over rape claim'




Russia say Aeroflot plane searched in London 'by UK authorities'




Six Turkish troops killed by Kurdish Workers' Party (PKK) militants
President Donald Trump said the US would be coming out of Syria "very soon" during a speech in Ohio on Thursday.
He said: "Let the other people take care of it now. Very soon, very soon, we're coming out."