UK set for record hot bank holiday weather
Temperatures are expected to hit 27C (80.6F) in parts of the country on Monday – hotter than the French Riviera and the Costa del Sol.
It comes as millions of Britons prepare to hit the roads, with 8.5 million car journeys forecast between Friday and Monday.
The Met Office said it was "almost guaranteed" to be the hottest early May bank holiday Monday since 1999, when a record 23.6C (74.5F) was recorded in Hampshire, Worcester and Malden.
The hottest early May bank holiday weekend recorded occurred in 1995 when temperatures soared to 28.6C (83.4F) in Cheltenham, Gloucestershire.
🌡️ Temperatures will be on the up from today, and away from the coast it will be feeling warmer ☀️ We are likely to see the warmest early May Bank Holiday Monday since records began 😎 pic.twitter.com/xZkJUQe9YE

— Met Office (@metoffice) May 4, 2018
Met Office meteorologist Mark Wilson told Sky News: "We have a lovely weekend on the way, with high pressure dominating.
"Most of the UK will be dry throughout the weekend, with an increasing amount of sunshine.
"Western Scotland will be cloudy, with rain at times, but elsewhere there will be lots of fine weather. Temperatures day by day are going to creep up.
"We're expecting highs of 23C (73.4F) in London on Saturday, 25C (77F) on Sunday and 27C (80.6F) on Monday. Widespread temperatures will be in the low to mid 20s.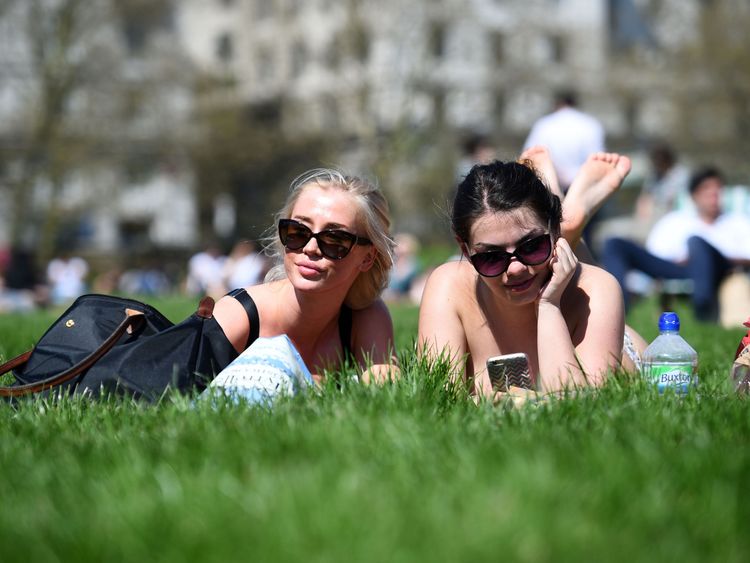 "It's very, very likely we'll beat the 1999 record. That's almost guaranteed."
This compares with highs of 20C (68F) which are forecast for Nice on the French Riviera on Monday, 22C (71.6F) in Malaga on the Costa del Sol and 22C (71.6F) in Marrakech in Morocco.
Last month the UK recorded its hottest day in April since 1949, with temperatures reaching 29.1C (84.4F) in London.
The RAC said the busiest period on the roads over the bank holiday will be Friday evening, with 2.86 million journeys predicted between 4pm and 7pm.
RAC traffic spokesman Rod Dennis said: "While wall-to-wall sunshine might not be on the cards for everyone this bank holiday weekend, many will still be keen to make the most of the early May warmth by escaping in the car to spend time with family or friends.
"We urge all drivers to give their cars a quick once over before they set off, especially if they are planning on driving any great distance."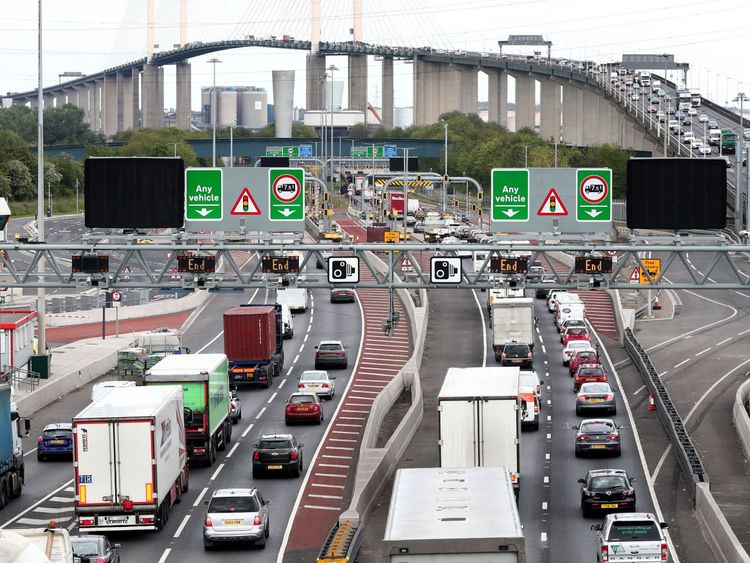 A number of rail services will be disrupted by engineering works.
Between Saturday and Monday Liverpool's mainline services will be reduced, with some replaced by buses or diverted via Manchester.
Significant work between Glasgow and Edinburgh means East Coast services will start and terminate at Edinburgh, while West Coast trains will not run north of Lancaster/Oxenholme Lake District on Sunday.
Rail connections to the UK's busiest airport, Heathrow, will be severed on Sunday, when there will also be no trains serving London Paddington.