Tyson Fury on depression, drugs, drinking and his comeback fight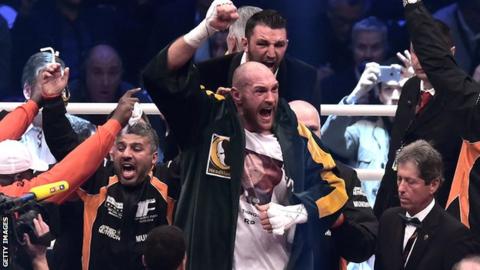 Tyson Fury v Sefer Seferi
Venue: Manchester Arena Date: Saturday, 9 June Time: 22:30 BST (approx)
Coverage: Commentary on BBC Radio 5 live; live text commentary on the BBC Sport website & app
Tyson Fury has been to the "worst place anybody could go" during his fight with depression.
Within a year of his greatest triumph he was taking drugs, binge drinking and going to sleep hoping he wouldn't wake up.
The 29-year-old has not fought since reaching his 'Everest' by claiming the IBF, WBA and WBO titles from Wladimir Klitschko in November 2015.
Rather than build on that success, he confessed to "hating boxing" and using cocaine. He relinquished his titles and tested positive for a banned steroid – something he blamed on eating uncastrated wild boar.
But the former world heavyweight champion will return to a boxing ring for the first time in 924 days when he faces Albania's Sefer Seferi in Manchester on Saturday.
"I woke up every day wishing I would not wake up any more," Fury told BBC Sport. "But I am living proof anyone can come back from the brink.
"There is a lot of people out there suffering with mental health problems who think all their days will be grey, but life can improve again and you will start to enjoy the little things again."
'Boxing is like marriage – you fall in and out of love'
Fury first revealed his mental health problems in an interview with Rolling Stone in October 2016.
He explained how he abandoned a training camp in May 2016 and was "out drinking, Monday to Friday to Sunday, and taking cocaine".
He told the magazine he was "a manic depressive" and the only way to deal with his problems was to "get drunk out of my mind".
"I could not pinpoint what made me depressed," said Fury, reflecting on those times. "I was rich, successful, young, healthy, had a family, fame – everything a man could dream of – but I was still depressed.
"To subside that depression other things happened."
Fury now says he is "back in love with boxing".
While the first part of his career was about becoming heavyweight champion of the world, his comeback after two and a half years out is about "inspiring others who are suffering" with mental health issues.
"Boxing is like a marriage – you have to work at it. You do fall in and out of love," said Fury.
"But I have spiced it back up again, bought her some sexy lingerie and we are back at it, better than ever."
'I felt tired, drained'
Fury's scheduled rematch with Klitschko was called off twice in 2016 and he then gave up his titles to focus on his mental health.
He was suspended by the British Boxing Board of Control in 2016 amid "anti-doping and medical issues".
After testing positive for a banned steroid in February 2015, he was charged by UK Anti-Doping (Ukad) in June 2016.
In December 2017, after a legal battle with Ukad, he accepted a "two-year period of ineligibility", which was backdated.
During Fury's time out of the ring, Britain's Anthony Joshua has become the dominant heavyweight in the division, winning three of the four world titles and beating Klitschko at Wembley, while American Deontay Wilder holds the WBC crown.
"I needed the rest," said Fury. "I felt tired of boxing, drained. I needed to be rejuvenated; 100% the break benefited me.
"There are challenges out there I want to take on. I want to achieve more. I was at the top and didn't feel there was more to do. Now new champions have risen."
Saturday's fight will be his first with new trainer Ben Davison, who replaces his uncle Peter Fury.
Fury, who had ballooned to 27 stone at one point, has dropped more than seven stone as he gets closer to his fighting weight.
He has 11 training sessions a week and says being back in the ring has helped him cope with his mental health problems.
"A structured routine in life is key – having short-term and long-term goals," Fury said.
"I advise living a healthy clean life. What good is drinking? It poisons the body. There is nothing better than getting in the gym and getting the endorphins going."
'Let's have Royal Rumbles'
Negotiations are ongoing between Joshua and Wilder for a unification bout.
"They are all afraid to fight one another," Fury told BBC Radio 5 live's boxing podcast.
"If any of us are going to be great champions, let's knock one another about. Let's have Royal Rumbles. The days of Ali, when he fought, Frazier, Foreman, everyone.
"Ali had three years out of the ring, had two fights and then lost to Frazier. Was it enough fights on his return? I don't know. But he got back to his glory.
"I'm not going to rush it. I'm 29, in the prime of my life and have never felt fitter, stronger or better. Rome wasn't built in a day. This is my second career now, coming back after nearly 1,000 days."