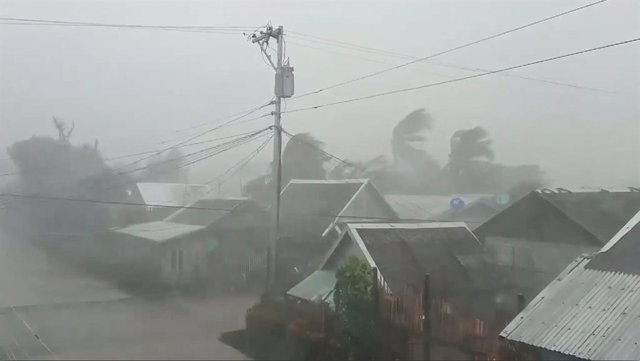 Strong winds caused by typhoon 'Kammuri' upon arrival in eastern Philippines. – GLADYS CASTILLO VIDAL / SOCIAL MEDIA
MANILA, Dec. 4 (Reuters / EP) –
At least 17 people have died and half a million have been forced to move after the arrival of Typhoon 'Kammuri' in the south of the Philippines, according to the authorities of the country, who have urged to take precautions and be alert to the warnings of evacuation.
Police have indicated that four people have been drowned while trying to cross a river in the provinces of Sorsogón, Camarines Sur and Quezón, while five others have died due to the fall of trees in the provinces of Marinduque, Leyte and Quezon.
On the other hand, two men have suffered a heart attack in Eastern Mindoro and a fisherman has been killed by lightning. A thirteenth person has lost his life due to hypothermia in Quezon and others in Camarines Sur after being electrocuted.
The circumstances surrounding the deaths of three other victims in Mindoro Oriental, Sorsogón and Marinduque are pending confirmation, according to agents, who estimate that another 18 people would have been injured and that two remain missing.
About 495,408 people are in shelters after being evacuated waiting for them to return to their homes, as Timbal has explained to the ANC agency.
"The storm has left damages such as fallen trees and broken roofs," he explained before indicating that some government infrastructure has been affected.
The meteorological agency has warned that the typhoon could cause floods, landslides and waves up to three meters high. On Monday, authorities suspended classes and flights nationwide as the typhoon approached.
The Philippine Government has declared the alert in at least 50 provinces. Classes have been suspended in 20 provinces in the east and north of the country, as well as in the capital, Manila. Also, dozens of flights have also been affected.