Two Trump Government advisers admit that the conversation with Zelenski was "unusual" and "inappropriate"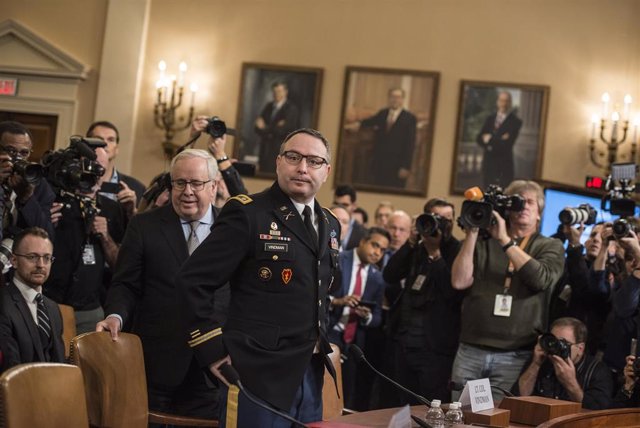 Alexander Vindman appears in Congress – Patsy Lynch
WASHINGTON, Nov. 19 (EUROPE PRESS) –
Two national security advisers from the United States Government have admitted to Congress on Tuesday that the call between President Donald Trump and his Ukrainian counterpart Volodimir Zelenski was "unusual" and "inappropriate" for direct allusions to former Vice President Joe Biden and his son.
The third public hearing of the sessions for a possible 'impeachment' against Trump has included Lieutenant Colonel Alexander Vindman, the main expert for Ukraine of the National Security Council of the White House.
Before the House of Representatives Intelligence Commission, dressed in a military uniform, he admitted that the telephone conversation between Trump and Zelenski on July 25 – and which he himself heard – was "inappropriate" for including aspects that are more beyond the mere formality between dignitaries of this level.
"It was inappropriate for the president to request an investigation of a political rival," according to Vindman, who has questioned Ukraine's ability to conduct an "impartial" investigation into the Biden case. In addition, it has admitted that the public disclosure of said request, as it has finally happened, would carry "significant implications".
Jennifer Williams, an advisor to the US vice president, Joe Biden, has also expressed in the same vein and described the call as "unusual." Williams, who like Vindman heard the conversation, has explained to congressmen that it is not often that there is talk of "what seemed to be an internal political issue."
Williams said the White House acting chief of staff, Mick Mulvaney, ordered a security aid to Ukraine valued at $ 391 million to be blocked and that he never knew the reasons why this money was finally delivered in September. Democrats suspect that such aid could be used as a method of pressure to force Ukrainian authorities to take action.
Trump has criticized both Williams and Vindman on Twitter for his collaboration with a process he has repeatedly described as a "witch hunt." The president says he did nothing wrong, despite the fact that the transcript of the call issued by his Government does include the express request to Zelenski about Biden.
During his appearance, Vindman has labeled the attacks against senior officials as "objectionable."
Public appearances are called to lay the groundwork for the possible formal opening of a political trial against Trump. For the process to prosper, a majority of the House of Representatives should vote in favor, although Republicans are a majority in the Senate, where the aforementioned trial would take place.