Two Ronnies script sells for £28k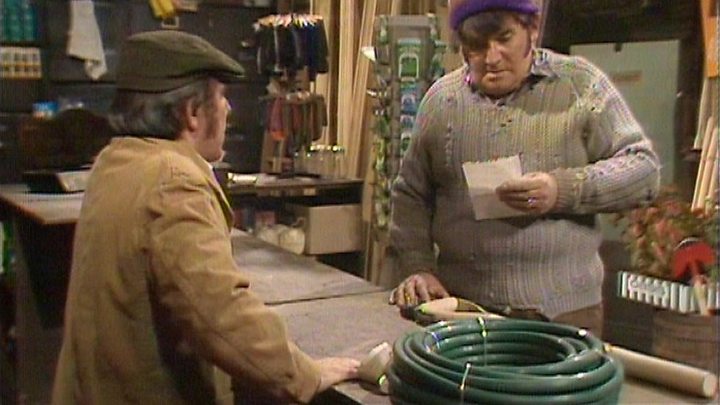 A buyer has forked out £28,000 for the handwritten script of The Two Ronnies' 'four candles' sketch.
Penned by Ronnie Barker under the pseudonym Gerald Wiley, it first aired on the BBC in 1976 and went on to be voted the greatest Two Ronnies sketch.
The script was famously uncovered on Antiques Roadshow in 2006 and was sold for £48,000 the following year.
Expected to fetch between £25,000 and £40,000, it sold for £28,000 at East Bristol Auctions.
The sketch features workman Ronnie Barker walking into a hardware shop looking for fork handles and being offered four candles instead by shopkeeper Ronnie Corbett.
You may also like
Flat cap wearing man told to leave Tesco

Flying Scotsman steam sets off fire alarm

The ears that listened to history in the making
Written in red ink on four sides of lined paper, the script includes the original title, Annie Finkhouse and production notes suggesting it was a first draft.
It was brought to Antiques Roadshow after being found in a bag of rubbish, and was taken to Ronnie Corbett who confirmed its authenticity.
---
The 'four candles' sketch
First aired in an episode of The Two Ronnies in September 1976
Also known as The Hardware Shop or Annie Finkhouse, it was chosen as the funniest comedy moment of the 70s on UKTV and finished fifth in Channel 4's Fifty Greatest Comedy Sketches in 2005
At a memorial service for Ronnie Barker in Westminster Abbey in 2005, vergers held four candles instead of two
---
Andrew Stowe, from East Bristol Auctions, said it "epitomises British humour".
"It's just four pages of writing but it's something that's made millions and millions of people laugh over a 40-year period," he said.
"Everybody loves it, everybody knows it and it's part of the British conscious."