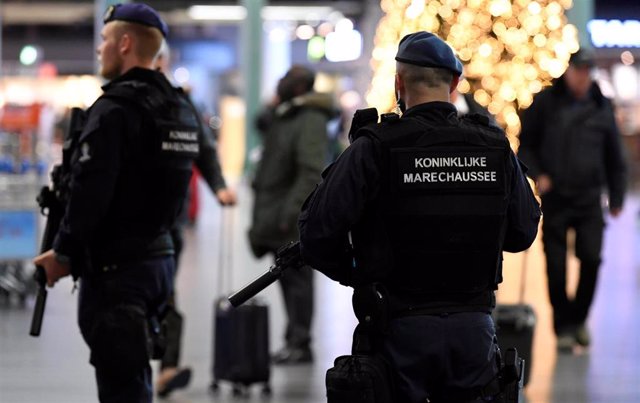 Police at the Amsterdam airport – REUTERS / PIROSCHKA VAN DE WOUW
MADRID, Nov. 26 (EUROPE PRESS) –
The Dutch Police have arrested two men accused of planning an attack with explosive vests and car bombs that they intended to carry out at the end of the year in the Netherlands, as reported by the Prosecutor's Office on Tuesday.
The suspects, aged 20 and 34, were arrested Monday afternoon in The Hague and in their hometown, Zoetermeer, by agents of the police anti-terrorist unit.
The Netherlands intelligence agency, the AIVD, alerted the police in October that these two people would be planning a jihadist attack for which they would prepare to train explosives.
The Police managed to infiltrate the environment of both, something "indispensable" to know their intentions. At the moment, it is not confirmed that the planned attack was of the jihadist type or what the objective would be.
The researchers have already determined that they intended to use explosive vests and one or more car bombs and that they would execute it before the end of the year on Dutch soil.
The police have not found weapons or explosives in the records after their arrest, but they have located an ax, a dagger and a mobile phone with a SIM card in a hidden space on the roof of the house of one of them.
"The criminal investigation into these two men shows that the possibility of an attack in the Netherlands is still present," the Prosecutor's Office said in a statement.