Two killed by gunfire in clashes between Morales fans and opponents in central Bolivia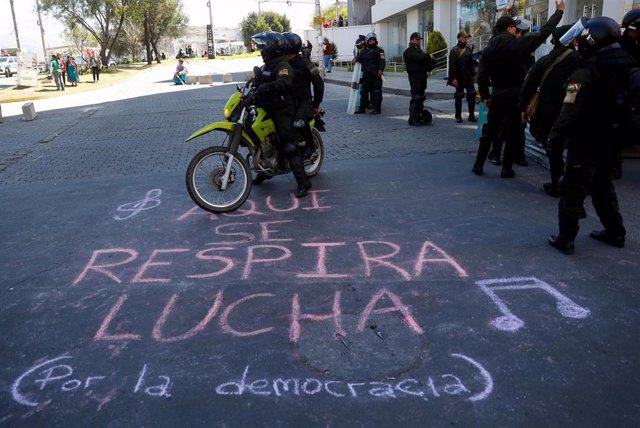 Security deployment in La Paz – REUTERS / KAI PFAFFENBACH
MADRID, Oct. 31 (EUROPE PRESS) –
Two men of 41 and 55 years have died from gunshot wounds in the context of clashes in central Bolivia between government supporters and a critical group with the results of the last elections, in which the opposition has reported fraud in favor of the current president, Evo Morales.
The events took place on Wednesday in the town of Montero, in the department of Santa Cruz, where followers of the ruling Movement to Socialism (MAS) clashed with a group that blocked a bridge as a gesture of repudiation of the results disclosed by the Supreme Court Electoral.
The president of the local Civic Committee, Regis Medina, who represents several civil society movements, has accused the supporters of the "attacking with guns" of the protesters. "They came to Montero to lift the strike," he lamented in an interview with the Red Uno network.
The Bolivian government minister, Carlos Romero, has confirmed at least two dead and six wounded by these clashes, although sources consulted by Red Uno have assured that by mid-afternoon the list of wounded already added at least 14 names. The shocks also lasted until late at night.
Romero has blamed these incidents "on the civic leadership and Mr. Carlos Mesa", the main rival opponent of Morales in the recent elections. "We have been saying insistently that they were wanting dead. Very well, today they achieved their dead and we are going to report it to international organizations," he said in a television interview collected by the official agency ABI.
For the minister, it is a "very serious" incident that demonstrates that "there are groups that are promoting violence" in Bolivia and has criticized the "double standards" of the opposition, which on the one hand would advocate for "peaceful" mobilization and, on the other, it would mobilize "hordes of young fascists."
Romero has assured that there are already clues that point to both the material and intellectual authors of the two deaths and has pointed out that it will be up to the Prosecutor to debug responsibilities.