Two killed by cardiac arrest and more than 82,000 evacuated after the eruption of the Taal volcano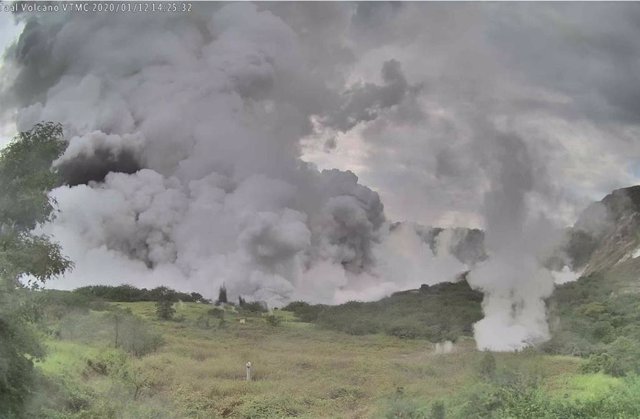 Eruption of Taal Volcano – PHILIPPINE INSTITUTE OF VOLCANOLOGY AND SEISMOLOGY
MANILA, 15 (DPA / EP)
Two people have died victims of two heart attacks while fleeing the eruption of the Taal volcano, which has already caused the evacuation of more than 82,000 people in the Batangas region of the Philippines, local authorities reported on Wednesday.
The Taal volcano, located in the province of Batangas, about 66 kilometers south of Manila and located in the middle of a lake of the same name, began expelling ashes on Sunday. The fatalities are a 65-year-old woman and a 27-year-old man from the towns of Talisay and Taal, in Batangas, a provincial emergency officer said.
The woman suffered a cardiac arrest on Monday and the man died on Tuesday, according to the person in charge. Police have reported that a truck driver died Monday in the province of Laguna when he lost control of his vehicle due to the lack of visibility caused by the ashes expelled by the volcano.
Residents have been evacuated from the towns of Batangas and the neighboring province of Caviete but some people have stayed at their homes to monitor property and livestock. Authorities have deployed emergency teams, including military and police, on Wednesday to ensure that all high-risk areas have been completely evacuated, after it was reported that some people had disregarded the warnings and returned home. .
"We have to enforce the evacuation order and prevent people from coming back because this is very dangerous," said Deputy Governor of Batangas Province, Mark Leviste. "The ashes of the eruption are very dense and some areas look like deserts or ghost locations," he said.
The Philippine Institute of Volcanology and Seismology (Phivolcs) has indicated that it has been monitoring the "continuous but weaker eruption" of the main crater of the Taal volcano caused by hydro-volcanic and magmatic processes "for the past 24 hours.
The center has warned that it has detected fissures and deformations in the earth's crust around the volcano, hundreds of volcanic earthquakes and high sulfur dioxide emissions, which implies that there is a continuous magmatic movement that could cause more eruptions.
For all these reasons, the Phivolcs has reiterated its recommendation for a complete evacuation of the island and all high-risk areas. "The level four alert is still in force for the Taal volcano," he said. "This implies that a dangerous explosive eruption is still possible in hours or days," he concluded.