Two climbers killed in fall at Yosemite park
Park Rangers received emergency calls reporting the falls on Saturday morning, the US National Park Service said.
Rescue staff responded to the scene but the two climbers did not survive the call, Park Ranger Jamie Richards said.
They were identified as Jason Wells, 46, of Boulder, Colorado, and Tim Klien, 42, of Palmdale, California.
The pair were scaling the Freeblast route of El Capitan, which looms 914m (3,000ft) above ground in Yosemite Valley.
The mountain is one of the best-known landmarks in the park and is considered a world-class challenge for rock climbers.
It wasn't immediately clear how high the climbers were up on the sheer granite rock face.
Park rangers are investigating the incident.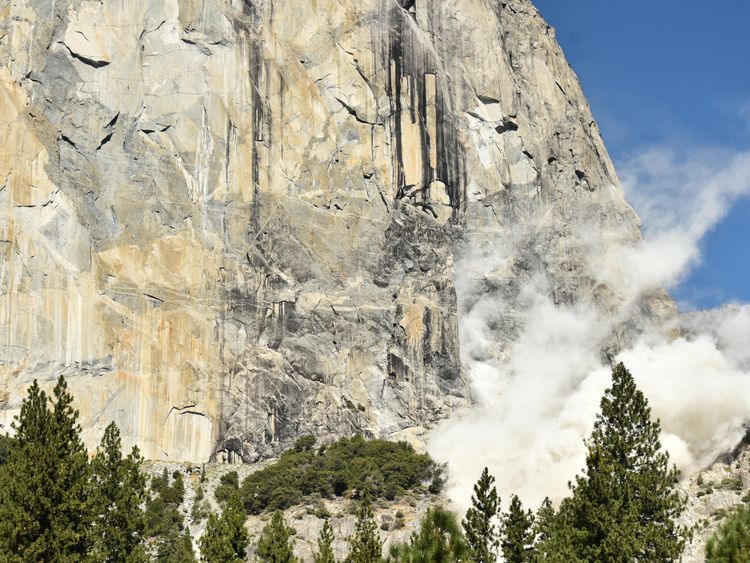 Similar events have happened at the site in the past.
A British climber was killed and his wife badly injured last September when a rockslide from El Capitan rained boulders onto a popular hiking trail.
Last month, a park visitor died after falling from the Half Dome cable at Yosemite.
Earlier in May, famed rock climber Hans Florine fell while climbing The Nose of El Capitan – surviving with a broken heel and ankle.
More from US



G7 finance ministers warn US 'co-operation at risk' over metal tariffs




Teacher charged after 'feeding puppy to snapping turtle' in front of students




Signed, sealed, delivered: Trump says summit with Kim Jong Un is back on




Roseanne sitcom could return without title character after race storm




US defence secretary accuses China of 'intimidation' over militarised Spratly Islands




Uber driver arrested after passenger shot dead
A total of 51 climbers have died from traumatic injuries in the park from 1970 through 1990, according data posted online by the Park Service. More than 100 climbing accidents occur in Yosemite every year.
El Capitan is located on the north side of Yosemite Valley and is popular with rock climbers and BASE jumpers.