Tweet pits Anthony Joshua against Cardiff councillor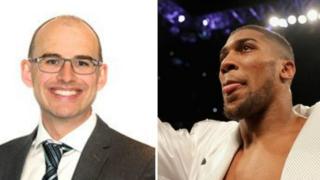 One is a heavyweight boxer from New Zealand, the other is a Liberal Democrat councillor in Cardiff – not easily confused, or so you might think.
But in the lead-up to Saturday's Anthony Joshua v Joseph Parker fight, hosts Principality Stadium instead included the Twitter handle of Pentwyn councillor Joseph Carter.
Fans spotted the mistake but wished him luck for the bout all the same.
Mr Carter saw the funny side, replying: "I've watched all the Rocky films.
"You must be able to box after watching those," the Welsh Lib Dem's housing spokesman added.
On spotting the mistake, tweeted hours before Joshua beat his rival to take the WBO world heavyweight title, Twitter user Douglas Haig backed the politician.
As did a number of others, including former Lib Dem assembly member John Dixon, who wrote: "Only a few hours to go until we find out whether @joseph_carterUK's training schedule based on relentless Focus delivery and housing policy development for the @WelshLibDems will be a match for @anthonyfjoshua's 82″ reach and record of 20 KOs in 20 fights…"
Cathy Owen quipped: "We're all backing you Jo! What's your boxing nickname? The Pentwyn Punchbag?"
While Jodie Fear wished Mr Carter "Best of luck for the fight".
But Mr T (not that one) was among those who were not convinced of Mr Carter's ability to win. He wrote: "No offence @joseph_carterUK but my money is on AJ".
Tweeting on Sunday, Mr Carter wrote: "Sorry I couldn't beat @anthonyfjoshua on this occasion. There's always next time @principalitysta".
You may also like: