Tusk initiates the consultations with the capitals after advancing Johnson that will request the extension of Brexit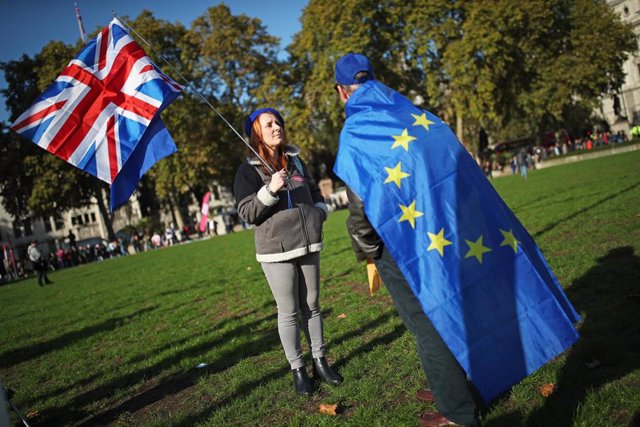 Flags of the United Kingdom and the EU – Yui Mok / PA Wire / dpa
BRUSSELS, Oct. 19 (EUROPE PRESS) –
The president of the European Council, Donald Tusk, will begin consultations with the capitals on the response to the British Prime Minister Boris Johnson, who in a late afternoon telephone conversation has told him that he is preparing to send the letter to the one that forces Westminster to request the postponement of Brexit.
"On this basis, Tusk will initiate consultations with the leaders of the European Union on how to react," European sources have informed Europa Press, warning that this process will take "some days."
The EU is open to an extension to avoid the worst scenario of a traumatic separation due to lack of agreement, but the capitals have made it clear that if they agree to delay Brexit again it must be for clear reasons, for example for a drastic political change, it is say, by calling new elections or a second referendum.
Tusk and Johnson have spoken around 8:15 p.m., in a conversation in which the British confirmed to the president of the European Council that "the letter will be sent today," the sources added. The Polish politician himself has revealed the contact in a brief message posted on his Twitter profile in which he declared "waiting for the letter".
This Saturday was the deadline given by the House of Commons to Johnson that requires him to ask the Twenty-seven a new postponement, until January 31, 2020, if he did not have an agreement that allowed an divorce ordered next 31 October.
The 'premier' reached at the last moment a revised agreement with Brussels that was accepted by EU leaders last Thursday, but still needs the ratification of the British and European Parliaments to enter into force.
However, Westminster has avoided ratifying the agreement by approving the so-called Letwin amendment, which paralyzes the vote on the Withdrawal Treaty because it forces the preparation of prior legislation for disconnection. This movement means that there will be no time left to process these rules before the end of the deadline, which ends at midnight.
Finally, Johnson, who flatly refused to request the extension, has sent a letter to the deputies of the British Parliament in which he explains that he will tell the EU that a new postponement "is not the solution".
"I will not negotiate a postponement with the European Union," he explains in the letter, collected by Sky News. "I am going to tell the EU what I have said to the British for the 88 days I have been as prime minister: a new extension is not the solution," he said.
"It is quite possible that our friends in the European Union reject Parliament's request for a new extension or not make a decision quickly," he added.