TSB left man on hold as his wedding savings were stolen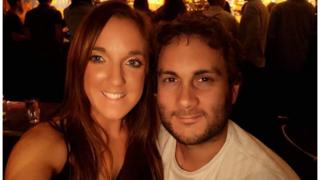 A TSB customer has described how he watched thousands of pounds in wedding savings being stolen from his internet account as he waited on hold for the bank's fraud department.
Ben Alford from Weymouth in Dorset said it took more than four and a half hours to get through to TSB, by which time most of the money had gone.
He is one of many affected by fraud who have struggled to contact the bank.
TSB says it has put in "additional resources" to support customers.
Ben called TSB after he noticed a £9,000 loan with another company had been taken out in his name without his knowledge.
The money had been paid into the TSB joint bank account he shares with his girlfriend, Francesca Cuff.
Ben said a £1,000 overdraft had also been set up without their permission.
'Robbed in broad daylight'
He says he was logged into internet banking, and waiting for someone at TSB to answer his telephone call, when he noticed that money had begun to be stolen.
"There was initially £5,000 taken out of that account followed by another amount of £4,000, he told BBC Radio 4's You & Yours programme.
"Had they answered their fraud line promptly, none of this money would have been taken because it could have been stopped. I literally watched the money go out of our account".
Among the money stolen was more than £7,000 the couple had put aside for their wedding.
"I just felt helpless. It was like being robbed in broad daylight", said Ben.
A spokesperson for TSB said it was "really sorry" about what happened to Ben and Francesca and "the distress and inconvenience this caused them".
"While our systems are safe and secure unfortunately fraudsters are increasingly sophisticated and looking to take advantage of situations like these.
"If customers have been a victim of fraud as a direct result of our recent IT issues they won't be left out of pocket," the spokesperson added.
Ben is adamant that he has not handed over sensitive information by responding to any dubious texts, emails or telephone calls.
Instead it seems the criminals already knew enough about him to raid his bank account, and they even had control of his mobile phone number.
Ben says someone had called his mobile phone network pretending to be him. They had closed his account and got his mobile number transferred onto their own phone.
It meant they would receive any text messages sent by TSB containing the passcodes needed to authorise changes to Ben's bank account.
Target for criminals
The migration of data on TSB's five million customers from former owner Lloyds' IT system to a new one managed by current Spanish owner Sabadell created major difficulties for the bank.
Criminals have taken advantage of the confusion, specifically targeting TSB customers with "phishing" emails and texts designed to con them into handing over personal details, passwords and passcodes.
Many people have reported long waits to get through to TSB's fraud team and have complained about the bank's failure to get back to them after they have finally managed to report a fraud.
The UK's national fraud and cyber crime reporting centre Action Fraud says the number of "phishing" reports it has received about TSB have risen from 30 in April to just over 320 since the start of May.
That is an increase of 970%, and those are just the ones reported to the police.
TSB has declined to say exactly how many of its customers have actually had money taken since its troubled move onto a new computer system.
Fraud refunds
In Ben Alford's case, the bank has refunded some of the money, but without telling him and it took almost a week to do so.
The regulator the Financial Conduct Authority requires banks to refund unauthorised transactions by the end of the business day following the day it becomes aware of a problem.
Ben says he is still due more money back and, to date, no one from TSB has been in touch with him or his girlfriend.
"TSB have not given us any information whatsoever. All they have done is log it. From my point of view their customer service is leaving a lot to be desired".