Tsai celebrates its electoral victory by proclaiming that it will not yield to Beijing's threats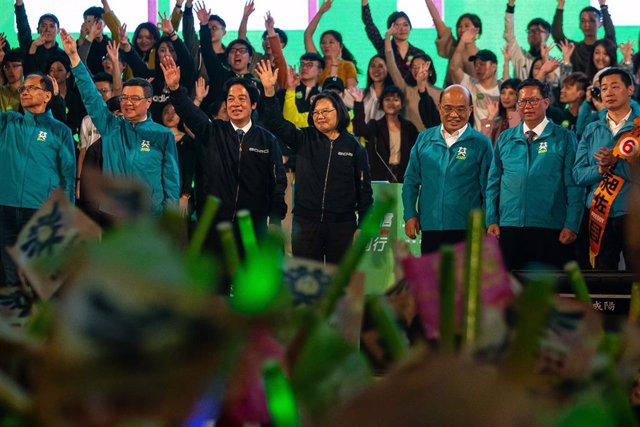 Taiwan President Tsai Ing Wen – Chan Long Hei / SOPA Images via ZU / DPA
MADRID, Jan. 11 (EUROPE PRESS) –
Taiwan President Tsai Ing Wen has proclaimed her victory in the presidential elections on Saturday with the promise that she will not give in to China's threats in her attempt to reclaim the territory.
"Peace, parity, democracy and dialogue will be the four pillars of bilateral relations," said Tsai after his top rival and candidate of the Chinese Nationalist Party, Han Kuo Yu, acknowledged his defeat.
"Beijing must understand that a democratic Taiwan, with a democratic government, will not give in to threats and intimidation," he added.
In his victory speech at the Taipei headquarters of his Progressive Democratic Party, Tsai has also assured that in these elections "Taiwan has shown the world how much its citizens appreciate a free and democratic lifestyle," the newspaper said. 'The Straits Times.'
With more than 90 percent of the votes scrutinized, the results of the Central Election Commission grant the current president more than 57 percent or almost eight million votes, compared to Han's more than five million votes, 38 percent. The pro-Chinese candidate has already congratulated the current president for her triumph.
Thus, Tsai is about to obtain a second and final four-year term for which he has promised to maintain his independence policy at the head of a territory that China considers historical property.
The outgoing president would also culminate a spectacular comeback since the 2018 local elections, in which the PPD suffered a severe setback due, mainly, to the controversial pension reform promoted by the Tsai Government and its express support for gay marriage.
The overturn in the electoral projections led, paradoxically, to China. The Chinese president, Xi Jinping, opened the year with a speech in which he verbalized the intention of the Asian giant to impose the principle of 'one country, two systems' on Taiwan.
Taiwan has had its own government since 1949, when the Kuomintang and his followers, led by General Chiang Kai Shek, arrived on the island after being defeated by the Chinese Communist Party (CCP) of Mao Tse Tung in the civil war.
Since then he has struggled to be recognized as an independent State, something that he achieved briefly until in 1979 the Jimmy Carter Administration changed its recognition from Taipei to Beijing, dragging it to other countries.