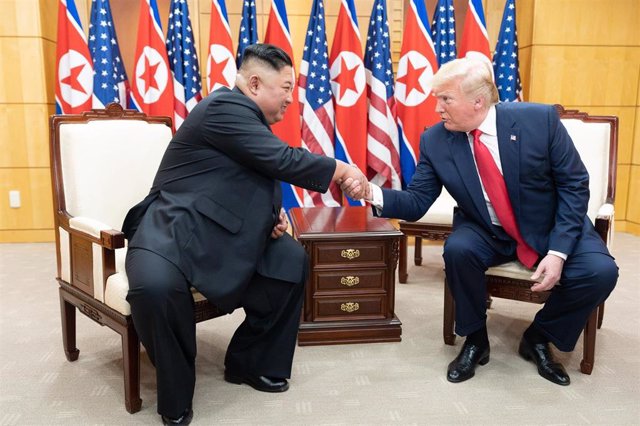 Kim Jong Un and Donald Trump. – Shealah Craighead – Archive
MADRID, 12 Feb. –
White House National Security Adviser Robert O'Brien has reported Wednesday that U.S. President Donald Trump is willing to meet again with North Korean leader Kim Jong Un as long as the talks aim to achieve a nuclear agreement.
Trump, willing to meet again with Kim with an eye on a nuclear deal
The words of O'Brien, who has expressed that the New York tycoon has been very clear on this matter, have taken place shortly after the CNN television network pointed out that Trump would have indicated to his advisers that he does not plan to hold a new summit with Kim before the presidential elections scheduled for November.
O'Brien, however, has assured that the president will act independently and without taking political considerations into account, according to information from the Yonhap news agency.
As he said, the Administration "wants the negotiations to continue if they lead North Korea to fulfill the commitments Kim agreed to in Singapore." At that summit, the parties agreed that the denuclearization of the Korean peninsula would be carried out in exchange for the United States guaranteeing the security of North Korea.
"We will continue to work. We will have to see if another summit among the leaders is appropriate. But the president has made it very clear that if an agreement can be reached for the American people he will go to a summit, go to a meeting, talk to everyone." , the White House adviser said before stating that "it is necessary to reach a good pact."
The first summit between Trump and Kim took place in Singapore in June 2018 and resulted in the signing of an agreement on the denuclearization of the peninsula and the implementation of bilateral relations.
Both held a second meeting in February 2019 in Vietnam, a meeting that proved fruitless. In the absence of agreement, the United States then maintained that the magnate had to choose between "a very bad agreement and no agreement."
"We will have to wait to see if the negotiations resume to see what is on the table," said O'Brien. "Right now there is no summit scheduled, but if there was an opportunity we would move," he has riveted.
For his part, the president of South Korea, Moon Jae In, has described as "unfortunate" the stagnation of nuclear talks between the United States and North Korea and the lack of progress between the parties throughout 2019.
"If there had been any progress in the dialogue between Pyongyang and Washington we could have walked towards peace on the Korean peninsula and towards cooperation between the north and the south," the leader said at the end of January.