Trump will spread the transcript of another telephone conversation with the president of Ukraine this week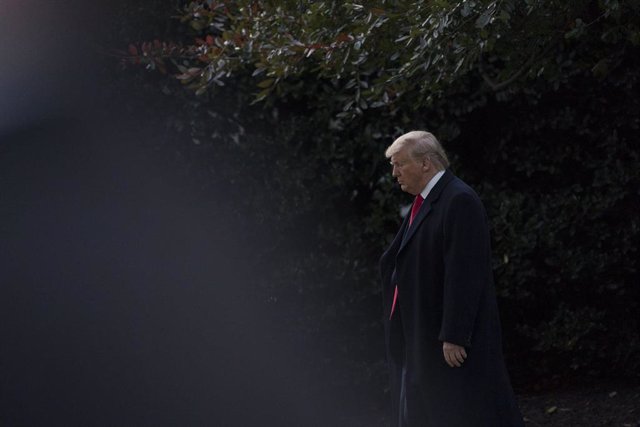 Donald Trump in the White House – Contact
WASHINGTON, 12 Nov. –
The president of the United States, Donald Trump, has announced that this week he will spread the transcript of a telephone conversation he had with the Ukrainian president, Volodimir Zelenski, before the controversial call that has led the Democrats to promote a process of parliamentary dismissal (impeachment, in English) to relieve you.
"I will disseminate the transcript of the first and, therefore, most important phone call to the president of Ukraine before the end of this week," said the president of the United States, in a message posted on his personal account of the social network Twitter.
Trump has announced the dissemination of this transcript in a key week in the process of parliamentary impeachment against Trump, which on Wednesday will open the public appearance phase in the House of Representatives.
Trump's transcript will be that of a call to Zelenski prior to the one that caused the complaint of an intelligence official, who filed his complaint for the internal regulatory channel because he considered that the US president could have incurred abuse of power with that conversation. .
According to the transcript of that controversial call on July 25, Trump literally asked Zelenski to do him the "favor" of promoting an investigation into the role of Hunter Biden, son of former US vice president Joe Biden, in a Ukrainian gas company.
The US president denies that he has committed irregularities with that call and argues that he is innocent because at no time there was "quid pro quo" (exchange of favors) with Ukraine. However, Democrats suspect Trump could have linked the granting of hundreds of millions of dollars in military aid to Ukraine while waiting for the Kiev government to publicly commit to investigating the Biden.
Last week, a key witness in the impeachment investigation, the former US ambassador to the European Union Gordon Sondland, changed his statement to the House of Representatives to state that there was a "quid pro quo" with the Government Ukrainian because he himself transferred a Zelenski adviser that the United States would not grant military aid to Kiev if before there was no public commitment to investigate the Biden.