Trump will receive Guaidó this Wednesday at the White House to talk about the "democratic transition"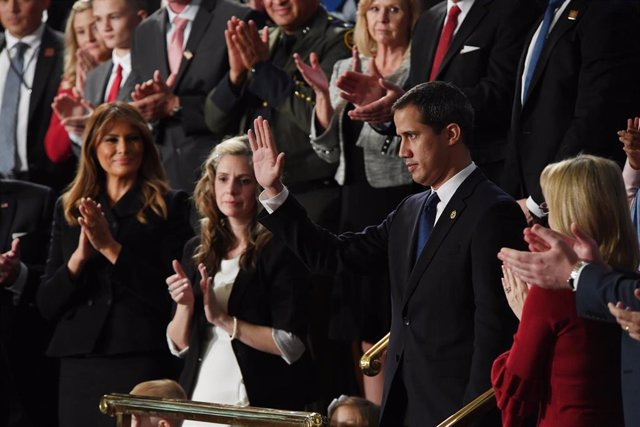 The self-proclaimed "president in charge" of Venezuela, Juan Guaidó, in the United States Capitol – Christy Bowe / ZUMA Wire / dpa
WASHINGTON, Feb. 5 (EUROPE PRESS) –
The US president, Donald Trump, will receive on Wednesday at the White House the self-proclaimed "president in charge" of Venezuela, Juan Guaidó, to analyze how to join forces in order to promote a "democratic transition" in the Caribbean nation.
The White House has reported in a statement that Trump will take the opportunity to "reaffirm the United States' commitment to the people of Venezuela" and to Guaidó as interim president.
In addition, they will analyze how to work together to "accelerate a democratic transition in Venezuela that ends the current political and humanitarian crisis" that the country has been suffering for years.
"We will continue working with our partners in the region to face the illegitimate dictatorship in Venezuela and we will remain with the Venezuelan people to guarantee a future that is democratic and prosperous," the US Presidency reiterated.
Guaidó went on Tuesday night to the Capitol invited by the White House, which is, in principle, the last stop of the international tour he undertook on January 19 and has taken him to Colombia, United Kingdom, Brussels, Davos , France, Spain and Canada.
The opposition leader said last week that "despite the threats" of the Miraflores Palace, he would return to Venezuela, but not before "doing everything possible" to achieve a meeting with Trump.
The New York magnate asked Guaidó to take "his people" the message that "all Americans are united with the Venezuelan people in their just struggle for freedom." "His tyranny mandate will be crushed and broken," he said of Maduro, whom he called "socialist dictator" and "illegitimate leader."
Guaidó intends to regain the international momentum he obtained a year ago when he was declared interim president with the declared intention of overthrowing Maduro. More than 50 countries, including the United States, the majority of Latin Americans and numerous Europeans, including Spain, have recognized him as such but the 'Chavista' leader remains in power.