Trump: We'll see if North Korea summit still on
The US President said whatever happens, he will still insist on the denuclearisation of North Korea.
Speaking at the White House at a meeting with the President of Uzbekistan, he said the US has not "heard anything" about threats to cancel the summit.
"We haven't been notified at all," Mr Trump said.
"We haven't seen anything. We haven't heard anything.
"We will see what happens."
:: North v South: A tale of two Koreas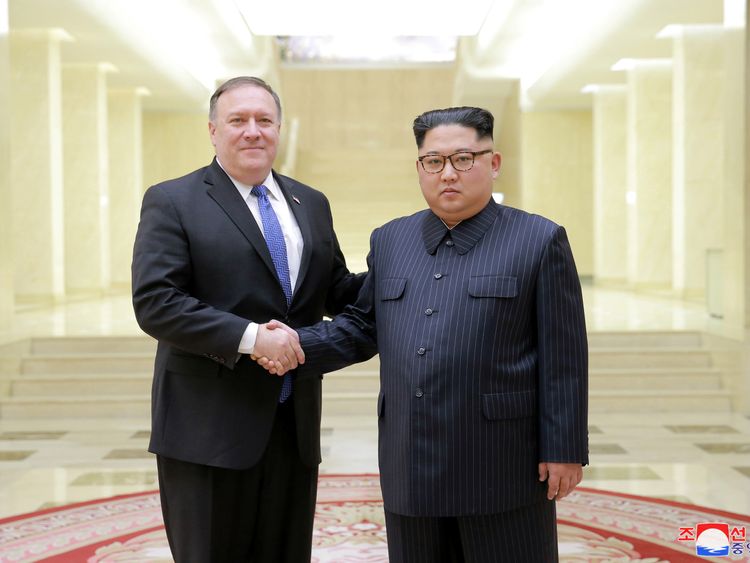 Mr Trump's security adviser John Bolton said the odds are still in favour of the summit going ahead, he told Fox News Radio.
Early on Wednesday morning North Korea threatened to pull out of the first ever summit with the US, planned for 12 June in Singapore.
The North said it has no interest in a summit based on "one-sided" demands to give up its nuclear weapons.
First vice foreign minister Kim Kye Gwan said that if the US "corners us and unilaterally demands we give up nuclear weapons we will no longer have an interest in talks and will have to reconsider whether we will accept the upcoming DPRK-US summit".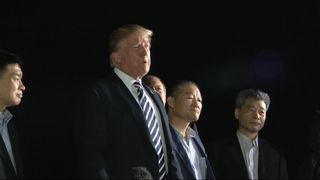 His threat came after the North scrapped high-level talks with South Korea hours before they were due to start on Wednesday, blaming the South's military drills with the US, which began on Friday.
White House press secretary Sarah Sanders said earlier on Wednesday htat preparations for the summit were ongoing despite the cancellation of the South Korean talks.
She said Mr Trumpm is "hopeful" the meeting will still take place.
"If it doesn't we'll continue the maximum pressure campaign that's been ongoing," she told Fox and Friends.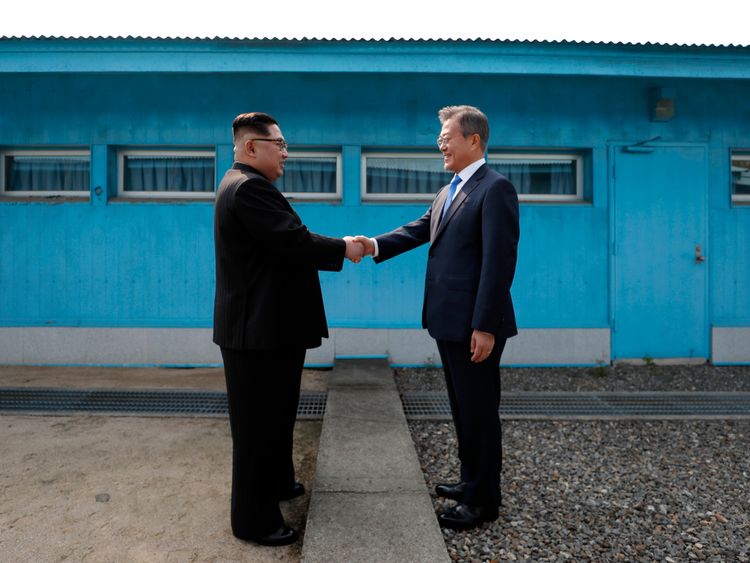 Kim Kye Gwan said the fate of the summit and relations between North Korea and the US "would be clear" if Washington spoke of a Libya-style denuclearisation for the North.
Mr Trump would also remain a "failed president" if he followed in the steps of his predecessors, the statement added.
Kim Kye Gwan appeared to be responding to recent comments from Mr Trump's security adviser John Bolton and others suggesting that North Korea should follow the "Libyan model" of nuclear disarmament.
Libya cut its nuclear programme in exchange for the easing of sanctions.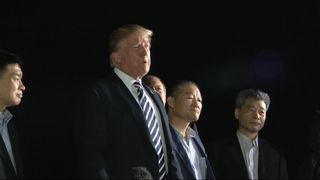 North Korea, however, sees the gruesome death of Libya's leader Muammar Gaddafi in 2011 as justification for its own nuclear development amid what it describes as US threats.
If the US-North Korea summit was to be cancelled, it would be frustrating and embarrassing for Mr Trump, who had promised to make it a "very special moment for world peace".
It will also be a blow to optimism inspired by last month's historic meeting between Mr Kim and South Korea's leader President Moon Jae-in.
At the meeting, the first between the two countries in 11 years, Mr Kim pledged a "new history".
A joint statement said the two had confirmed their goal of achieving "a nuclear-free Korean peninsula through complete denuclearisation".
The statement did not provide any new specific ideas on how to achieve the objective, however.