Trump warns that Iran will "pay a very high price" if victims occur in US facilities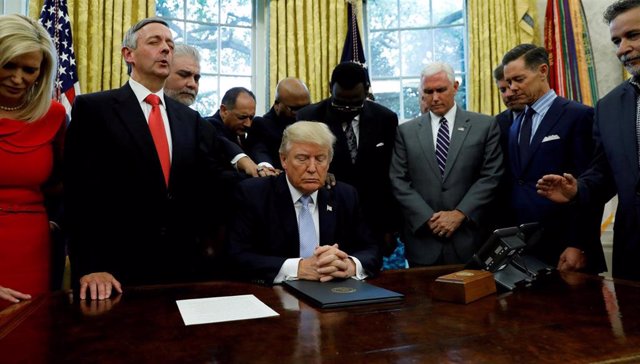 Evangelical leaders give their blessing to Donald Trump in the White House on December 29. – REUTERS / KEVIN LAMARQUE
WASHINGTON, Dec. 31 (Reuters / EP) –
The president of the United States, Donald Trump, warned on Tuesday that Iran will be responsible if victims occur in any facility in the United States and "will pay a heavy price."
"Iran will be fully responsible for lost lives or damages incurred in any of our facilities. They will pay a heavy price! This is not a warning, it is a threat," Trump wrote on Twitter hours after protesters threw stones. and set fire to a security post at the US embassy in Baghdad as a protest against air strikes against militias supported by Iran.
"The US Embassy in Iraq is, and has been for hours, safe! Many of our great war fighters, along with the world's deadliest military equipment, were immediately transferred to the site," Trump added on the web. Social.
Also on Tuesday, Trump had accused Iran of "orchestrating an attack" against the US embassy in Iraq, in the context of protests in front of the building over the recent bombing of a pro-government militia supported by Tehran.
"Iran killed an American contractor, injuring several. We responded firmly, and we always will," said the president, in a message posted on his account on the social network Twitter.
"Now Iran is orchestrating an attack against the US Embassy in Iraq. They will be fully responsible. Furthermore, we hope that Iraq will use its forces to protect the Embassy, ​​and we have notified that," he added.
Thousands of protesters and militia leaders have gathered on Tuesday with the Embassy to protest against the air raids on Sunday against Kataib Hezbollah targets, which resulted in 25 deaths and more than 50 wounded.
The Iranian Foreign Ministry has denied that Tehran is behind the violent protests that have occurred on Tuesday before the US Embassy in Iraq, after US President Donald Trump pointed to this country for " orchestrate an attack "against the diplomatic headquarters.
"The United States has the surprising audacity to attribute to Iran the protests of the Iraqi people against the savage murder of at least 25 Iraqis," Foreign Ministry spokesman Abbas Mousavi said in a statement posted on a ministry website .