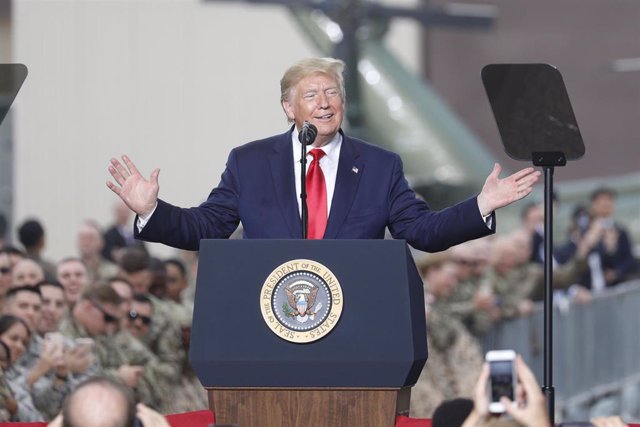 Donald Trump – Ryu Seung-il – Archive
NEW YORK, 8 (EUROPE PRESS)
The president of the United States, Donald Trump, has demanded that North Korea dismantle its nuclear program or, otherwise, it is exposed to "lose everything", in its first comments after the North Korean regime announced this Saturday a rehearsal of An alleged missile engine.
In Trump's opinion, the North Korean leader, Kim Jong Un, "is too smart and has too much to lose, all in reality, if he continues to act with such hostility," the US president said on Twitter.
Trump has recalled that Kim signed with him a "blunt" agreement for the denuclearization of North Korea at the summit that both leaders held in Singapore in 2018.
Also, the president has warned Kim that it would not be in his best interest to "cancel the special relationship he has with the President of the United States or interfere with the presidential elections" next November, Trump added, aware that the new evidence North Korea is a blow to his image as a mediator in the solution to the historic crisis on the Korean peninsula.
ESSAY
North Korea has reported on Sunday that the "very important" test took place at the Sohae Rocket Launch Station – Donchang-ri province – in the northwest of the country, possibly the rocket engine, whose result will change "the strategic position" of the country.
"The afternoon of December 7, 2019 took place at the Sohae Rocket Launch Station, a test of enormous importance," according to a statement released by the North Korean state news agency KCNA.
"Its result will have an important effect in changing North Korea's strategic position once again in the near future," the statement said, also specifying that the country's National Defense Science Academy (ACDN) has informed the Central Committee of the Korean Labor Party of the "successful result of that essay".
Missile experts consulted by the Reuters news agency point out that it would be a "static" test of a rocket engine – solid or liquid fuel -. Had it been a missile launch, its neighbors South Korea or Japan would have detected it quickly.