Trump "temporarily" postpones the designation of Mexico's cartels as terrorist organizations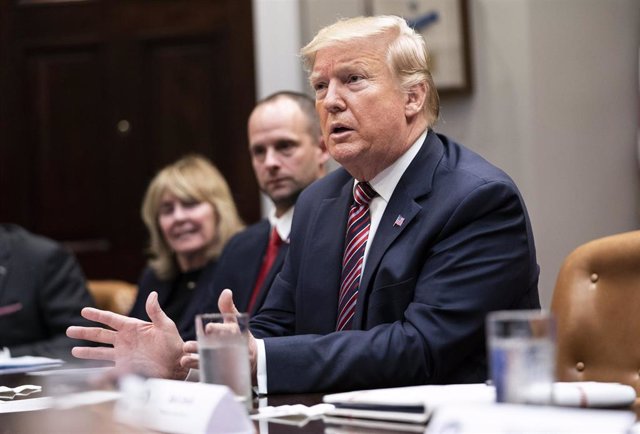 The president of the United States, Donald Trump. – Contact
Mexico celebrates Trump's decision
The president of the United States, Donald Trump, announced Friday that he will "temporarily" postpone his decision to designate Mexican cartels as terrorist organizations, a situation that had caused bilateral tensions.
"All the work necessary to declare the Mexican cartels as terrorist organizations has been completed," said Trump, who highlighted through his Twitter account that, "by regulation," the authorities are prepared to take the plunge. .
"However, at the request of a man I like and respect, and who has worked well with us, President (of Mexico) Andrés Manuel López Obrador, we will temporarily defer this designation and increase our joint efforts to deal with decisive to these violent and growing organizations, "he added.
López Obrador has celebrated Trump's decision. "I welcome anyone who has taken our opinion into account," he told reporters from the state of Tabasco, Reuters picked up. "The decision was very good," he said.
"I respect President Donald Trump very much because he is demonstrating with facts that he is respectful of Mexico, with our people and with our sovereignty," the president added.
"He will always have, on our side, an open, frank, outstretched hand, to continue moving forward together for the good of our peoples, of our nations," he concluded.
For his part, the Mexican Foreign Minister, Marcelo Ebrard, thanked Trump for the decision. "On behalf of the Government of Mexico, I appreciate President Donald Trump's decision to postpone the designation of organizations as terrorists at the request of President López Obrador, who also respects and appreciates him," he said in a message posted on his Twitter account. "He won the cooperation and there will be good results," he added.
Trump's announcement was made after the visit to Mexico of US Attorney General William Barr on Thursday, a meeting in which both countries agreed to strengthen the High Security Group (Ganseg), integrated in August, with the objective of combating organized crime.
Barr's visit to Mexico came after Trump revealed at the end of November his intention to declare the cartels as terrorist organizations, which caused stupor in his southern neighbor.
López Obrador, who warned against an eventual US "interventionism," left the issue in the hands of Ebrard, who warned Tuesday that this decision would "weaken" bilateral cooperation at the security level.
"We have let them know that we do not agree, as Mexico has never been, with the designation of criminal organizations, of organized crime, as terrorist organizations because of the implications it may have for our sovereignty and our national interests," he said.
He also demanded that Washington "reduce illicit arms trafficking to Mexico" if it wants to collaborate with the Mexican authorities in the fight against crime, while influencing the fact that both countries face "a phenomenon of transnational crime."
Trump's decision originated in the attack in early November against the LeBarón family, members of a Mormon community based in Mexico, near the border with the United States, which resulted in nine deaths.