Trump steel tariffs illegal, says UK's Liam Fox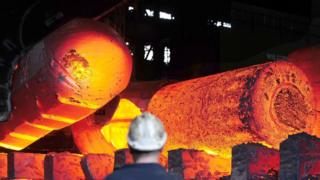 New tariffs imposed by the US on steel and aluminium from the EU are "illegal", the UK's International Trade Secretary Liam Fox has said.
The policy came into force on Friday, meaning anyone in the US importing the metals from the EU will have to pay an additional tax.
President Donald Trump said the move would protect US national security.
Dr Fox said Prime Minister Theresa May would be raising the issue at the G7 leaders meeting next week.
On Friday, Mrs May said she was "disappointed" at the US decision – which will see a 25% duty on European steel and a 10% duty on European aluminium – and that the taxes were "unjustified".
US tariffs: The unusual ways nations have retaliated

'Stand up to bully Trump', says Labour

US tariffs a dangerous game, says EU
Speaking to BBC Radio 4's Today programme, Dr Fox said the UK was still seeking exemptions from the tariffs.
"We will still be making that case throughout this week," he said.
He added: "The United States believes, I believe wrongly and illegally, that this is a national security matter for the US.
"Given that we export some pretty complex steel products to the United States which are part of their national security programmes themselves, this reasoning that is given is wrong and therefore we believe unlawful."
President Trump originally imposed the tariffs in March, claiming that if the US remained reliant on imported metals, it would threaten the country's national security and damage its own metal industry.
He initially exempted Canada, Mexico and the EU from the tariffs to allow time for negotiations.
However, the exemption ended at midnight on Thursday, meaning the new taxes would be collected from Friday.
Dr Fox travelled to Washington in March to seek a further exemption for the UK but was unsuccessful.
Earlier this week, he called the tariff proposals "disappointing" and "absurd".
'Trade war'
Dr Fox's comments follow those of EU trade commissioner, Cecilia Malmstrom, who also called the new tariffs illegal and said the US was playing a "dangerous game".
French President Emmanuel Macron backed the position, telling President Trump the duties were illegal over the telephone.
But Dr Fox warned against a "tit-for-tat" escalation in the light of EU counter measures, adding: "There can be no victors in a trade war, only casualties."
The EU has issued a 10-page list of tariffs on US goods, ranging from Harley Davidson motorcycles to bourbon.