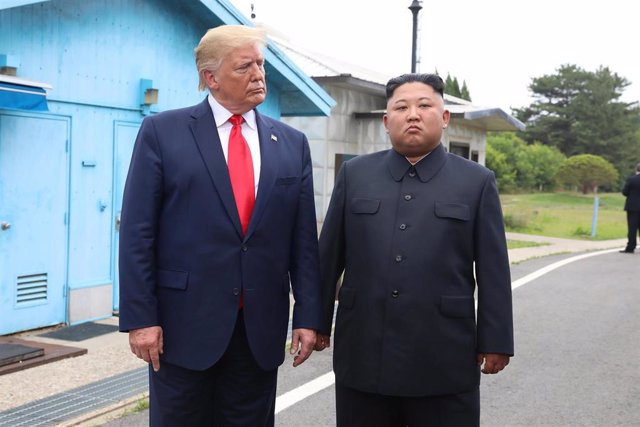 Donald Trump and Kim Jong Un in the demilitarized zone between the two Koreas – GETTY – Archive
WASHINGTON, Dec. 24 (EUROPE PRESS) –
The president of the United States, Donald Trump, said on Tuesday that the country will know how to deal with the "Christmas gift" that threatened the regime of Kim Jong Un in early December.
"We will find out what the surprise is and we will deal with it successfully," Trump said, asked by reporters about the North Korean threat, from his Mar-a-Lago vacation complex in Florida.
"Maybe it's a nice gift," joked the New York mogul with the media. "It may be a gift and send me a nice vase," he said.
The North Korean Vice Minister of Foreign Affairs, Ri Thae Song, revealed on December 5 that Pyongyang was preparing to make a "Christmas gift" to Washington just as the North Korean regime resumed ballistic missile tests.
"The dialogue requested by the United States is nothing more than a stupid trick to … use it in their favor in the presidential elections of 2020," he said. "It is only up to the United States what Christmas gift we give it," he added.
The United States and North Korea have embarked on a historic dialogue to achieve denuclearization and pacification of the Korean peninsula. Trump and Kim have met several times, the last one in June in the border area of ​​Panmunjon, although the contacts have since cooled.
Pyonyang has pledged to take significant steps toward this dual objective, but has demanded reciprocity from Washington, which ultimately means withdrawing US sanctions against North Korea.