Trump reverses his threats to attack Iran's cultural heritage if a conflict erupts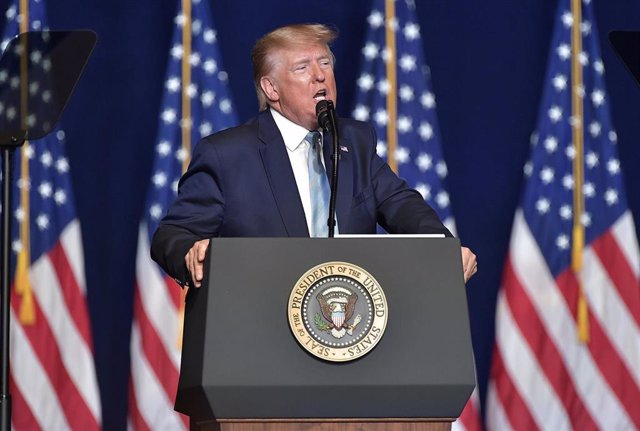 United States President Donald Trump – Michael Laughlin
He emphasizes that Soleimani was "a monster" that was preparing "a very big attack"
MADRID, Jan. 7 (EUROPE PRESS) –
The president of the United States, Donald Trump, has reversed this Tuesday in his threats to attack Iran's cultural heritage if a conflict erupts and has stressed that "he likes to obey the law."
Trump said in a series of messages on Twitter that the United States has identified 52 Iranian targets, "some of them of a very high standard and important to Iran and Iranian culture," and that these "will be hit very fast and very hard" in case of conflict
War laws prohibit deliberate attacks against civilian targets that are not used for military purposes and provide that those who order or execute these attacks are responsible for war crimes.
"They are allowed to kill our people, mutilate our people. They are allowed to blow up everything we have and nothing stops them. We, according to several laws, have to be very careful with their cultural heritage," he said. .
"And you know what? If that's the law, I like to obey the law. But think about it: they kill our people, they blow our people through the air and then we have to be very gentle with their cultural institutions," he said. criticized
Despite this, the US president has stressed that "it seems good." "I will say this: if Iran does something it should not do, they will suffer the consequences very strongly."
He has also defended the murder of General Qasem Soleimani, head of the Quds Force of the Revolutionary Guards of Iran, and stressed that "his past was horrible." "He was a terrorist," he said.
"He was appointed as such by (former) President (Barack) Obama. As you know, he is not supposed to be able to leave his own country," he said, while accusing him of being behind the attack executed at the end of December against a military base located in the vicinity of the city of Kirkuk, which resulted in the wall of an American contractor and several Iraqi and US military wounded.
Trump has stressed that Soleimani was "with the Hezbollah leader" at the time of the attack, in apparent reference to Abu Mahdi al Muhandis, 'number two' of the Popular Mobilization Forces (FMP) and Iraqi militia leader Kataib Hezbollah .
The United States accused Kataib Hezbollah of the aforementioned attack on the base near Kirkuk and responded days later by bombing militia positions in Syria and Iraq, attacks that resulted in the deaths of 25 militiamen.
After that, militiamen and protesters gathered in front of the US Embassy in the Iraqi capital, Baghdad, and attacked the building, setting fire to part of the facilities in the security perimeter.
Therefore, Trump has stressed that Soleimani and Al Muhandis "were not to discuss a vacation." "They were not there to go to a nice 'resort' in Baghdad. They were there to discuss their business," he added.
"We saved many lives by ending his life, many lives were saved. They were planning something and will hear about it, or at least several people in Congress will hear it tomorrow," he said, without giving more details about it.
Thus, he stressed that these supposed plans of Soleimani "are classified", before describing Soleimani as "a monster". "He is no longer a monster. He is dead, and that is a good thing for many countries," he reiterated.
"He was planning a very big attack, a very bad attack for us and other people, and we stopped him. I don't think anyone can complain about it," said the US president, who has taken the opportunity to criticize the Democrats for their stance on the bombing.
"I don't hear many people complaining, beyond politicians who are trying to take over the Presidency. Those are the ones who complain, but I don't hear anyone else complain," he has settled.
Finally, he said that the US authorities "are fully prepared" for any attack by Iran in response to the death of Soleimani.