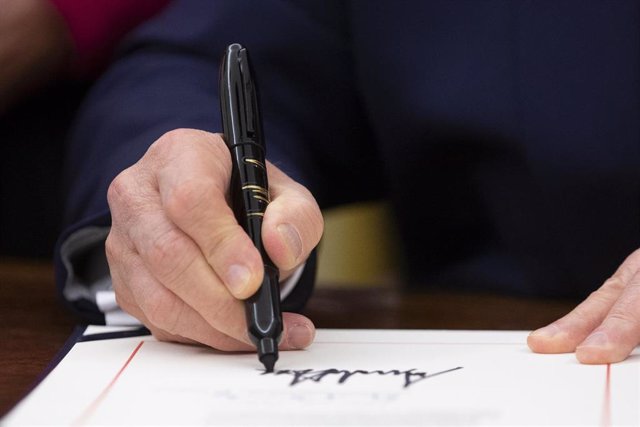 Donald Trump signing the Human Rights and Democracy Law in Hong Kong. – Contact
MADRID, Nov. 28 (EUROPE PRESS) –
The president of the United States, Donald Trump, has ratified on Wednesday the Law of Human Rights and Democracy in Hong Kong, a regulation that supports the protests in the special administrative region of China and has raised criticism from Beijing.
"I have signed the legislation out of respect for the Chinese president, Xi Jinping, for China and for the people of Hong Kong," announced the New York tycoon, who has also approved a second bill that prohibits the export of material such as tear gas, pepper gas, rubber bullets and electric guns to control protests in Hong Kong.
According to a statement from the White House, Trump has stressed that "the law has been ratified with the goal that leaders and representatives of China and Hong Kong manage to overcome their differences to achieve lasting peace and prosperity."
The new legislation, which was approved by the House of Representatives with only one vote against and unanimously in the Senate, requires that the State Department certify at least once a year the autonomy of Hong Kong. It could also lead to sanctions against the high charges responsible for human rights violations during protests.
China, which has condemned the measure with force, summoned the US ambassador to the Asian giant, Terry Branstad, on Monday to protest the approval of the bill.
For Beijing, the law is a tool whose purpose is to interfere in the internal affairs of the country, so it has put pressure on Washington to "correct its mistakes and stop meddling in the affairs of Hong Kong and those of China."
Protesters have protested in the streets of Hong Kong for five months and have intensified their protests in recent weeks. Citizens criticize China's interference with the promised freedoms to Hong Kong after the British colony returned to its domain in 1997. Beijing, meanwhile, denies having interfered in Hong Kong's affairs and blames Western countries for provoking the riots.