Trump pressed ó to the Australian prime minister to discredit Mueller's investigation, according to the 'NYT'
454718.1.500.286.20190930230242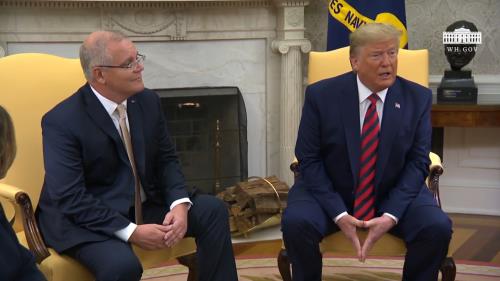 NEW YORK, 30 Sep. –
US President Donald Trump pressured Australian Prime Minister Scott Morrison to facilitate the investigation of Attorney General William P. Barr that according to the White House could discredit the investigation of Special Prosecutor Robert Mueller about Russian interference in the US presidential elections 2016, as revealed by the newspaper 'The New York Times' on Monday.
The newspaper assures by citing two different sources aware of the telephone conversation between Turmp and Morrison that the call came in recent weeks and that Trump explicitly asked Morrison for help. Barr would have asked Trump to talk to Morrison, according to one of the sources.
Australia would have informed the US FBI that the Russian government hinted at Trump's campaign that he could publish harmful information for his rival, Hillary Clinton.
The petition assumes that Trump in practice asked Morrison to investigate the investigation opened by the US authorities on Russian interference in the elections that led Trump to the White House, notes the 'NYT'.
The news of Trump's pressures on the Australian president coincide with the launch of a impeachment process against Trump for a similar call in which Trump congratulated in July on his election to the new Ukrainian president, Volodimir Zelenski, and threatened to block the US military aid to Ukraine if he did not pressure the Ukrainian Prosecutor to investigate the son of one of his potential rivals in the 2020 elections, Joe Biden.
Barr launched a review of Mueller's investigation with the stated objective of finding out if any member of the security forces or secret services acted inappropriately by opening an investigation into a possible conspiracy between the Trump campaign and Russia. Trump himself has openly stated that the ultimate goal is to validate his electoral victory and settle accounts with the enemies they have in what he calls "Deep State."
Mueller's investigation did not find sufficient evidence to establish whether Trump and his campaign team were involved in a criminal conspiracy with Russia but cannot reach a conclusion as to whether the president had committed a crime of obstruction of justice. The conclusions document was taken by Trump as his "total and complete exoneration."
In the 22 months that Mueller's work lasted, he pointed to Australia as a central element in the origin of the initial FBI investigation, although the final report does not explicitly mention this country.
In addition, media and commentators on the right related to Trump have launched a counter-statement that points to Trump's predecessor, Barack Obama, for using Australian secret services to spy on Trump's campaign and favor Hillary Clinton.